Williams called two other workers to confirm his suspicion that something was inside the trash compactor. Thoroughly convinced, they called 911.
Sergeant Philip Insardi responded to the call. He peered inside the trash compactor with a flashlight and saw tiny toes pointing at 2 o'clock underneath a folded newspaper. The infant still had its severed umbilical chord attached, leaves in his eyes, and was caked in dried blood.
Eerily motionless, Insardi was positive that the baby was dead. But when he touched his ice-cold stomach, he curled his legs into the fetal position.
Insardi wrapped the baby in his coat and cradled it en route to Brookdale Hospital where doctors estimated that the baby was born while the mother was standing around 3 a.m in the complex. Based on the condition of the infant, they believe that at dawn, she made up her mind to get rid of her son.
Despite the baby boy's tumultuous beginnings, nurses were relieved to discover that his most pressing medical issue was hypothermia. As they attempted to raise his body temperature and give him formula, baby boy was now referred to as "Trevor."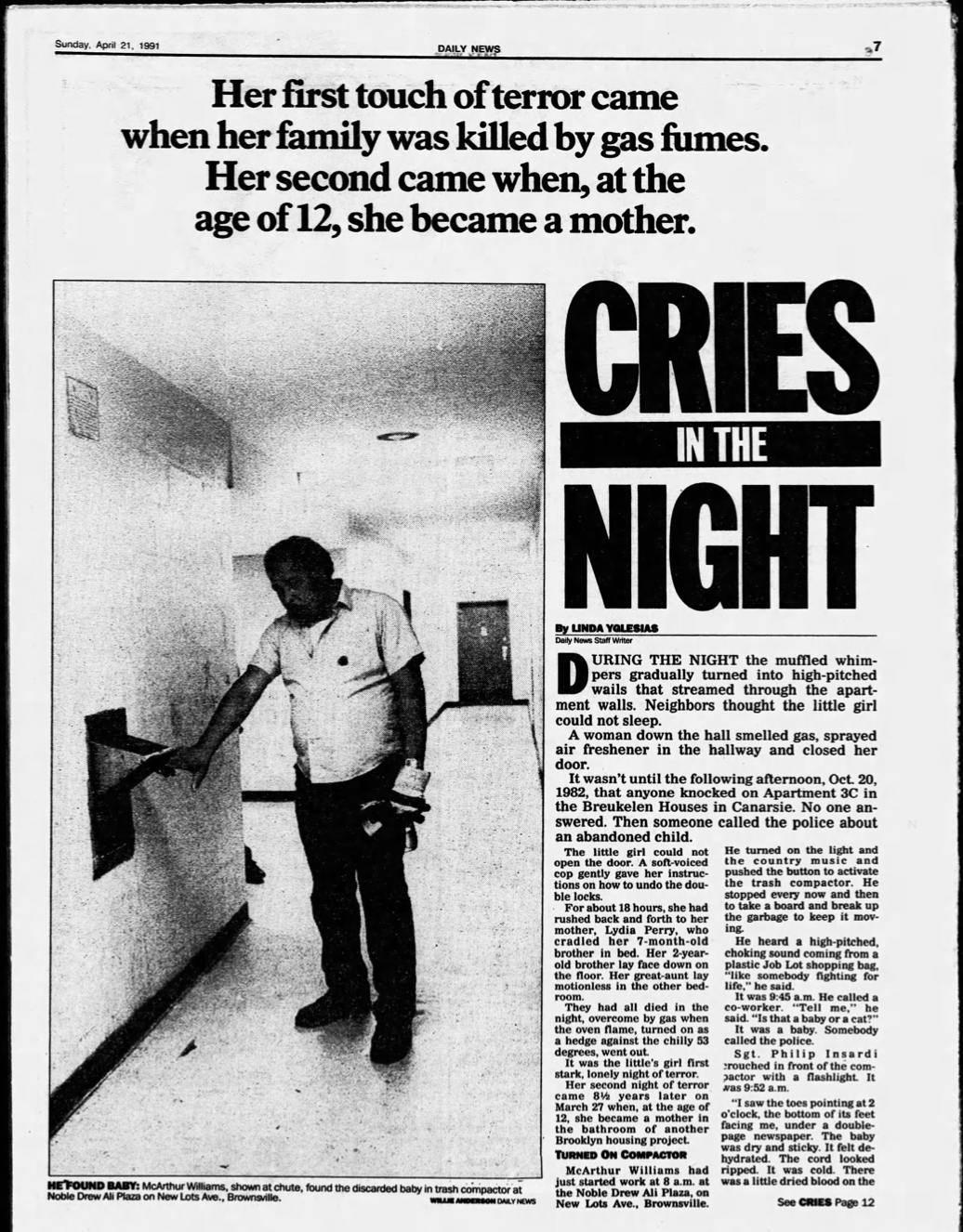 The 12-year-old mother had endured more in 12 years than many faced in their lifetime. Nearly nine years earlier, on October 20, 1982, gas began filling her families third-floor apartment at 657 W. 108th Street in the Breuklen Houses in Canarsie.
Despite seasonably warm autumnal temperatures during the day, the temperature dipped into the low 50s outside. As a result, the family of five, Anne Stevens (67), Lydia Perry (22), [Redacted] (4) Willie (2), and Frederick (10 months), resorted to using the oven for heat. The temperature was set to 500 degrees, and the oven door was left open, while the newly-installed windows in the unit all remained closed.
The day before, the city council passed a bill that would prosecute landlords who failed to provide heat and hot water to tenants. At the time, the Public Health Code required apartments to be at least 68 degrees between 6 a.m. to 10 p.m., and at 55 degrees between 10 p.m. and 6 a.m. If the outside temperature dropped below 40 degrees at any time between 10 p.m. and 6 a.m., the landlord was required to provide heat.
At 9 p.m., Paulyne Mooney, a neighbor, said that she smelled gas while she was putting out the trash. She sprayed the hall with air freshener, and went back into her apartment. Another neighbor, Victoria Jones, also smelled gas and decided to call police after she also heard [Redacted] crying. She assumed the 4-year-old girl was having a nightmare.
When police arrived, their knocks went unanswered. From behind the door they could make out a little girl's voice saying that she didn't know how to undo the locks. After instructing her how to release the two deadbolts, police entered apartment 3C.
The bodies of Anne Stevens, Lydia Perry, Willie, and Frederick were discovered at 4 p.m. Stevens was in her bed, Lydia and Frederick were in another, and Willie was on the floor. They had died as a result of asphyxiation by inhaling carbon monoxide from the oven after the pilot went out, and all four had more than 60 percent of carbon monoxide present in their blood. [Redacted] was taken to Kings County Hospital and listed in fair condition. Authorities believed she was the lone survivor because she was in a section of the apartment that contained an air pocket.