"Rick really did some amazing rewrites on the scripts," explained Lathan in an interview with BlackFilm. "When we were in rehearsals, we saw what worked, and he was open to making changes. There were certain points you had to make to get the point of the scene across but he was open to improv and making it so it's natural for you."
Diggs had enjoyed a major breakthrough after How Stella Got Her Groove Back, the 1997 romantic comedy based on Terry McMillan's best-selling novel. After The Wood and 1999's The Best Man, he was one of the hottest young actors in Hollywood. And Sanaa Lathan, who'd delivered a star-making turn in the 1998 action flick Blade, had also seen her profile rise exponentially. Lathan, the daughter of Hollywood producer Stan Lathan, had co-starred with Diggs in both The Wood and The Best Man; and she'd also enjoyed success in her own McMillan adaptation, having played Zora opposite Wesley Snipes (as Franklin) in 1999's Disappearing Acts, an HBO production.
"You can't help but be you in the films you do," Lathan said in 2002. "The greatest character actor is going to bring an aspect of themselves. I definitely think that was Sydney. I didn't put much pressure on myself to really to make the character work because I met a woman who' s a writer and I sort of modeled on her. She was a hip-hop journalist for a while and I realized that she's sort of like my girls and me. I just thought about bringing myself to it and really try to tap into the passion for the music. The shooting was so fun. The laughs were real."
As a film, Brown Sugar doesn't stray too far from traditional romantic comedy territory. The audience is confident that Dre and Sidney will wind up together, but it's spirit and soul is the pair's affection for Hip-Hop as a parallel to their bond with each other. The movie's great scene-stealers arrive in the form of rapper/actors Yasiin Bey (then known as Mos Def) and Queen Latifah. Appropriate that two of Hip-Hop's most celebrated artists would provide some of this movie's most memorable moments. Mos is Cavi, an aspiring rapper who Dre wants to sign but who is turned off by the cookie cutter music Dre's label has been known for. And Latifah is Sidney's cousin Francine, who is urging Sid to make things real with Dre; while, unbeknownst to her, Cavi is nursing a major crush on Francine.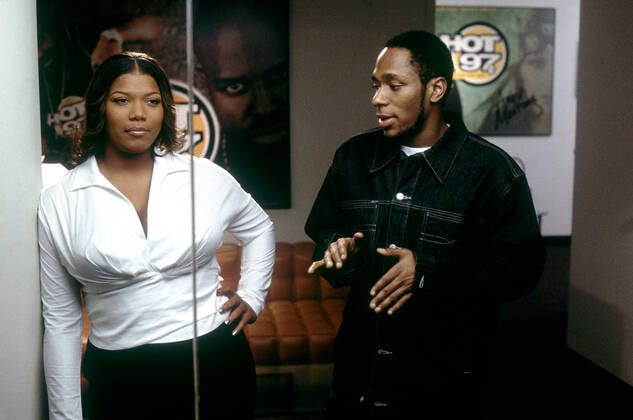 "He's crazy and he's unbelievably talented and unbelievably underrated," Diggs said of Mos Def in 2002. "He's just what this movie needed. He's what I needed, someone to play off because he's raw. He won't say anything that he doesn't want to say, but he's polite. We benefited from him and Queen Latifah. Latifah is hip-hop, she's not old and neither is hip-hop, but she was there at the forefront. So it was good to have people that are so in the music be in this movie. It gave it some authenticity. I would work with anyone from this movie again but I would specifically love to do something with him and explore that relationship even deeper. There's a lot going on there."