Despite the group's unified front, things had been deteriorating ever since Ice Cube's acrimonious departure in 1989. Now, Dr. Dre was beginning to echo Cube's frustration with his Ruthless Records contract; and Dre took exception to Eazy-E's relationship with N.W.A.'s manager, Jerry Heller. It was becoming apparent that Heller was a sore spot, and Dre had been famously disgruntled and dissatisfied with Ruthless Records. Former bodyguard-turned-music manager Suge Knight was now handling The D.O.C.'s career, and Suge offered Dre a way out. With the anticipation of pushing forward with their own venture, Knight helped to get Dre, The D.O.C., and R&B singer Michel'le off of Eazy's label.
Along with Dick Griffey and The D.O.C., the men founded what would soon be called Death Row Records in 1991. Knight also partnered with Michael "Harry-O" Harris, a businessman imprisoned on drug and attempted murder charges, to launch Godfather Entertainment; and through Harris' attorney David Kenner, Suge soon began signing young talent to Death Row Records. Dre's younger half-brother, Warren Griffin, deejayed in Long Beach; and Warren introduced Dre to a young emcee friend of his. Calvin Broadus was a Crip from the Eastside of Long Beach, and he'd been in jail for small time drug dealing. But Calvin was an ambitious rapper; he'd formed a group with Warren and Snoop's friends/cousins Lil 1/2 Dead and Nate Dogg called 213, and now Warren was pushing Dre to sign Snoop after Dre heard Snoop freestyling over an En Vogue instrumental. Death Row inked Snoop to a deal, and he was suddenly top priority at the label.
"I didn't want to be no R&B rapper and no motherfuckin' crossover rapper," Snoop told VIBE back in 1993. "I don't want to be wearing no flat-tops and all that other R&B-ass shit. That ain't me. I want my shit to be 100% gangsta shit."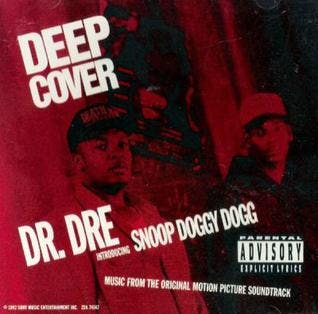 Snoop Doggy Dogg made his official debut on "Deep Cover" the ominous theme song for the 1992 Laurence Fishburne police drama of the same name. The single was Dr. Dre's first solo release, and it served to announce the lanky 20-year old from Long Beach. With is soon-to-be trademark drawl and the song's classic "1-8-7..." hook, it gave Snoop tremendous buzz. And "Deep Cover" helped set the table for Death Row Records and the monster album that Dr. Dre had waiting in the wings. The label's roster was suddenly filled with promising talent: a Virginia born rhymer who called herself The Lady Of Rage; a baritone-voiced emcee dubbed RBX; the R&B chanteuse Jewell; and a pair of G'd up wordsmiths who went by Tha Dogg Pound. Warren G would wind up on Def Jam, but he was still prominent in Death Row's circle—as was The D.O.C., once the breakout star of Ruthless Records, now an invaluable ghostwriter within Dre's camp.
It was the D.O.C. who helped coach a young Snoop through a killer track Dre had put together. Over a sample of Leon Haywood's "I Wanna Do Something Freaky To You," the D.O.C. came up with a perfect "Like this and like that..." hook. Snoop had a rhyme ready to go, and the song that they crafted would be "Nuthin' But A 'G' Thang.' The first single released from The Chronic, the song became a monster hit for Dr. Dre, Snoop Doggy Dogg and Death Row Records.