Dana rapped under the alias Queen Latifah. She'd loved the name "Latifah" after finding in her cousin's book of Arabic names; and "Queen" felt appropriate as she sought to make her name amongst the mostly-male Hip-Hop collective of hungry New Jersey-based artists who called themselves "The Flavor Unit." Latifah's deal with Tommy Boy, and that first single, an infectious track called "Wrath of My Madness," was the result of the entire collective putting in the work to see Queen Latifah become a star. And it was the first step in the legendary career of one of the most iconic women in Hip-Hop.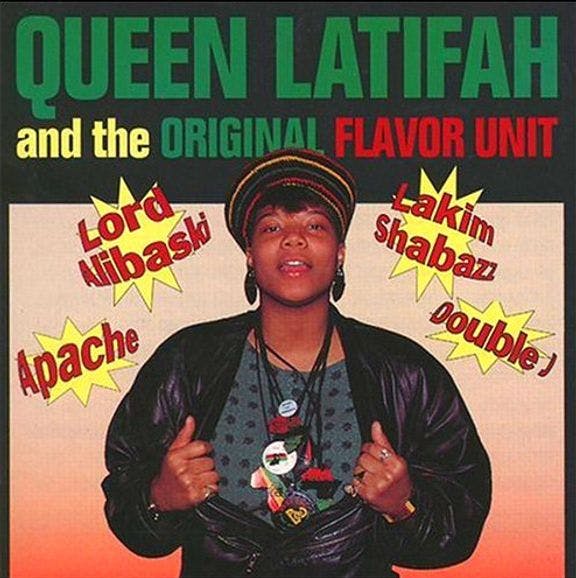 The Flavor Unit was a crew of emcees and producers who'd gathered around DJ Mark "The 45 King," a Bronx-born beatmaker who'd broken big with "The 900 Number." That famous breakbeat (built on a bari-sax loop from Marva Whitney's "Unwind Yourself") made DJ Mark a hot commodity. He landed a production deal with Tuff City Records and moved to New Jersey to launch his own studio. And in the Garden State, he found a cadre of hungry emcees: including rappers Lakim Shabazz, Apache, Latee, Chill Rob G, Nikki D and a teenage girl from East Orange named Dana.
"When I first met Mark, it was through this guy Abdul that was managing me. He had let Mark hear my demo," Lakim Shabazz explained in 2015. "Eventually he took me up there and we would sit around in 45 King's basement and watch videos of him spinning and Tito from the Fearless Four rhyming. I had to be around the 11th grade at this stage."
And young Dana was an unproven entity within the group, initially.
"I met Latee, then he brought in Apache," Markey Fresh recalled. "Then Latifah came down, and everybody looked at her as the girl that wanted to be on the baseball team, but didn't think she could hit any home runs. But we let her try out, and she killed it! She became a member."