Cey Adams has had a huge hand in shaping Hip-Hop's earliest aesthetics. He is credited with creating iconic visual identities for the likes of Run-D.M.C., LL COOL J, Public Enemy, the Notorious B.I.G., Beastie Boys, JAY-Z, and more.
The New York-born visual artist was a graffiti writer painting roll-down gates and car washes in 1982 when he appeared in the documentary Style Wars. A year later, a fateful run-in with photographer Talib Haqq (née Trevor "Butch" Green) would change his life.
"I was 20 in 1983 and painting a handball court in Jamaica, Queens, when Talib was shooting an album cover nearby for Run-D.M.C.," says Adams. "He saw me painting and pulled me into the RUSH Artist Management family." Those pics were for the group's self-titled first studio album, which was produced by Russell Simmons and Larry Smith. (Simmons, of course, was also the founder of RUSH, the company responsible for getting Whodini, LL COOL J, Run-D.M.C., Beastie Boys, and more out to the masses.)
Around the same time, Adams collided with Beastie Boys at Danceteria — the now-legendary downtown nightclub where Madonna often danced the night away while up-and-comers of every genre played the first floor. It was where Hip-Hop, gay culture, art rock, and CBGBs-punk-spillover mixed and mingled, like Studio 54 but a "circus without the rich, without the glamour, without the icing," as its DJ, Mark Kamins, once described.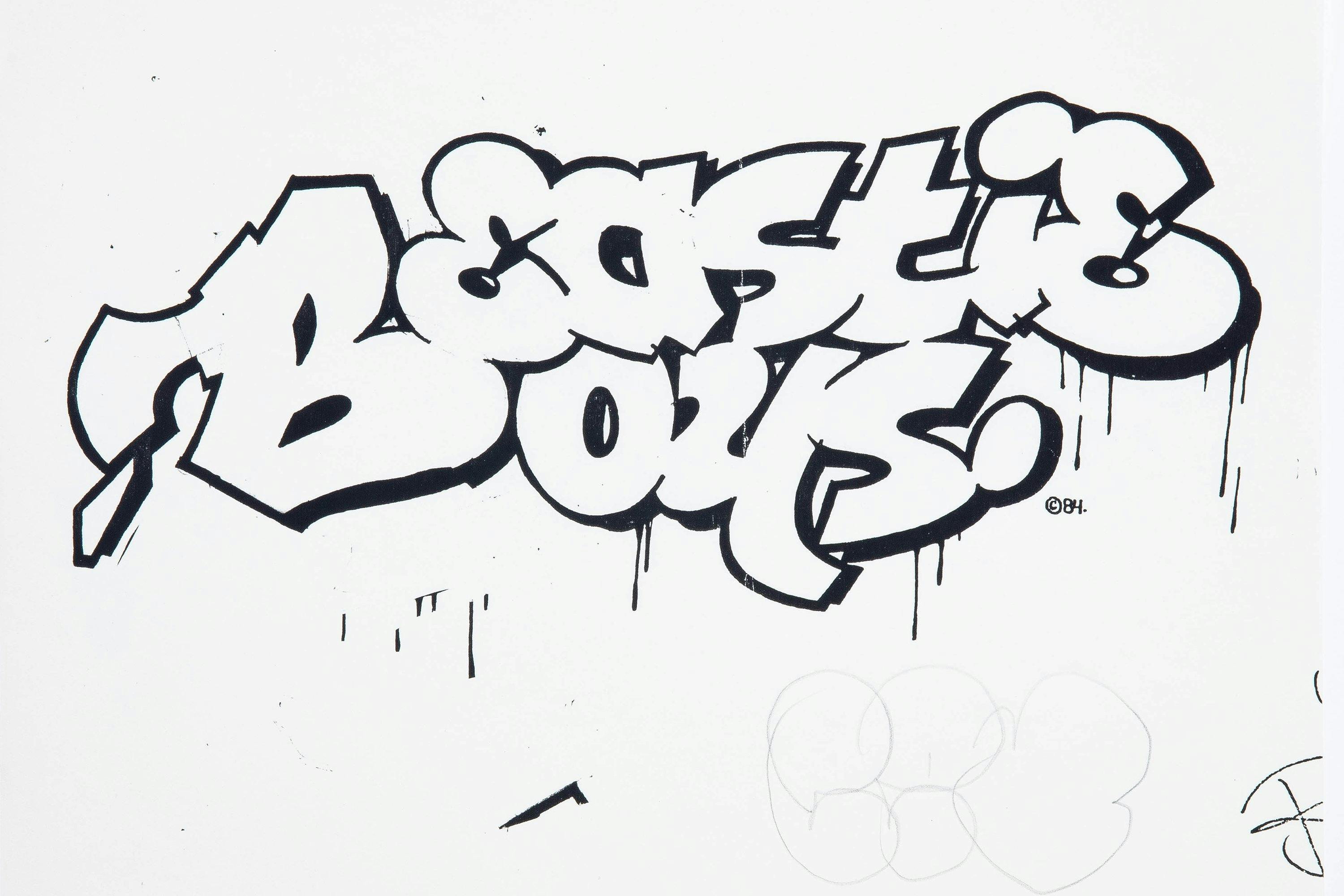 PHOTO: ©BEYOND THE STREETS / BEASTIE BOYS


"They [Beastie Boys] helped me get into the club that night. They already knew about my graffiti work and were in the market for a logo design for the Cooky Puss record," Adams says. Ultimately, it was his handiwork that graced the cover of their debut 12-inch, released in 1983 on Rat Cage Records.
Adams painted that same bubble-lettered Beastie Boys logo on the wall of an empty lot between West 22nd and West 21st streets and Fifth and Sixth avenues, across the street from Danceteria. It's the backdrop of the well-known Josh Cheuse photo showing the then-quartet (with original drummer Kate Schellenbach) slouching against a brick wall just below the piece.
"They were into graffiti and liked Wild Style," Adams says. "I made the piece in silver and black because colored paint would have just soaked into a brick wall. We were doing it run-and-gun style. There was no permit, everything was illegal, it was nighttime, and so I knew that silver and black would work really well." He hand-painted that logo on the Beastie Boys' first T-shirts and trucker hats in those days, and it has since inspired imitation on walls and tattoos worldwide.
PHOTO BY DAVID L. RYAN/THE BOSTON GLOBE VIA GETTY IMAGES
Def Jam Recordings formed in 1984, and Adams rose to the position of creative director. His expansive body of personal work blends corporate branding with activism and altruism. He continues to push the culture forward in numerous ways: Adams co-authored DEFinition: The Art and Design of Hip-Hop and collaborated with photographer Janette Beckman on The Mash Up: Hip-Hop Photos Remixed by Iconic Graffiti Artists. His large-scale American-flag mural One Nation is part of the permanent collection of the Smithsonian's National Museum of African American History & Culture. He even created a Google Doodle in 2017 to honor the 44th anniversary of the birth of Hip-Hop, complete with interactive turntables. His most recent body of work is Trusted Brands, a series of mixed-media collages exploring consumerism and the notion of brand loyalty, with hidden messages embedded inside familiar iconic logos.
* Banner Image: CEY ADAMS IN HIS STUDIO / PHOTO: ©JONATHAN MEHRING 2019