The origins
MICHAEL "Boogaloo Shrimp" CHAMBERS [actor/dancer who played "Turbo"]
In 1981 and '82, the Radio [club] was still underground. It was a place I went to dance. In 1983, Shabba Doo (Adolfo Quiñones) got the call that there was going to be a Lionel Richie video. I believe he helped with choreography, too. He brought us in the audition and once we danced, they knew they had something new. I was cast as one of the dancers in the video and then we got asked to be on Lionel Richie's "All Night Long" tour. If you look at the "All Night Long" video, it's the cast of Breakin'—me, Shabba Doo, you got Ana Sanchez, Electro Rock, everybody's in there.
BRUNO FALCON AKA: POP N' TACO: [actor/dancer who played Electro Rock 1] 
Before Breakin', I had danced in the movie DC Cab, dancing on a set of the White House with Irene Cara. I knew the other dancers in Breakin'—Popin' Pete, they called him 'Pistol Pete', from Electric Boogaloos. He trained me when I was very young, at Polytechnic High School. He got the part as my sidekick. Then Ana "Lollipop" Sánchez got the other part and we became Electro Rock—the rivals. I had never had lines in a production before, plus I was really bashful. They told me just play the opposite of my character, so I went in and did it. "Hey punk! Are you back for more, fool?"
CRASE [graffiti writer/extra]
In 1983, I was 16 and sent from the Bronx to stay with a family friend in LA to keep me out of trouble. I heard this place Radio Club had a younger crowd because they didn't have a liquor license. The Radio was older teenagers and adults. There was no sign outside. You just had to know. One Friday night in 1984 I was hanging with the Shake City Rockers. I was known as LEFTY then. Someone pointed me out to Ice-T as being someone who was good at graffiti. Ice-T said, "Listen, there's going to be a casting on Monday, around 3:30 right off of Hollywood and Vine. If you want to come down, ask for me, I'll get you inside." I took the bus there right after school. Ice-T introduced everyone and as they were auditioning B-boys someone handed me a piece of plywood and said, "Show us what you got." I took a few cans, did a fast throw-up, made sure it was nice and shaded, and they said, "Thank you," and then I left. A week later someone from Cannon Films called to say I got the part of, "Graffiti writer."
LUCINDA DICKEY [actor/dancer who played Kelly, aka: 'Special K']
I had moved out to Los Angeles from Kansas to be a professional dancer. I got a scholarship with Dupree Dance Academy and Grease 2 came out of that. It was my very first job and I decided that I didn't want to be just a dancer I wanted to be an actress. I wanted to be more of a Michele Pfeiffer, so I took reading classes. I did whatever jobs I could get—the Emmys, Solid Gold. As I finished filming Ninja III: The Domination they started casting Breakin' (Cannon Films—the same film company). I knew Jaime Rogers, the choreographer, but they had someone else in mind for the film at first. So I got together with my friend Billy Gibson and we made up routines for the audition. I had learned ballet, tap, jazz, but it was not the kind of jazz you do in Los Angeles. In that sense, I was very much like the character Kelly. I did the audition. I threw in my gymnastics because that was always my go-to. I did some aerials and flip-flops.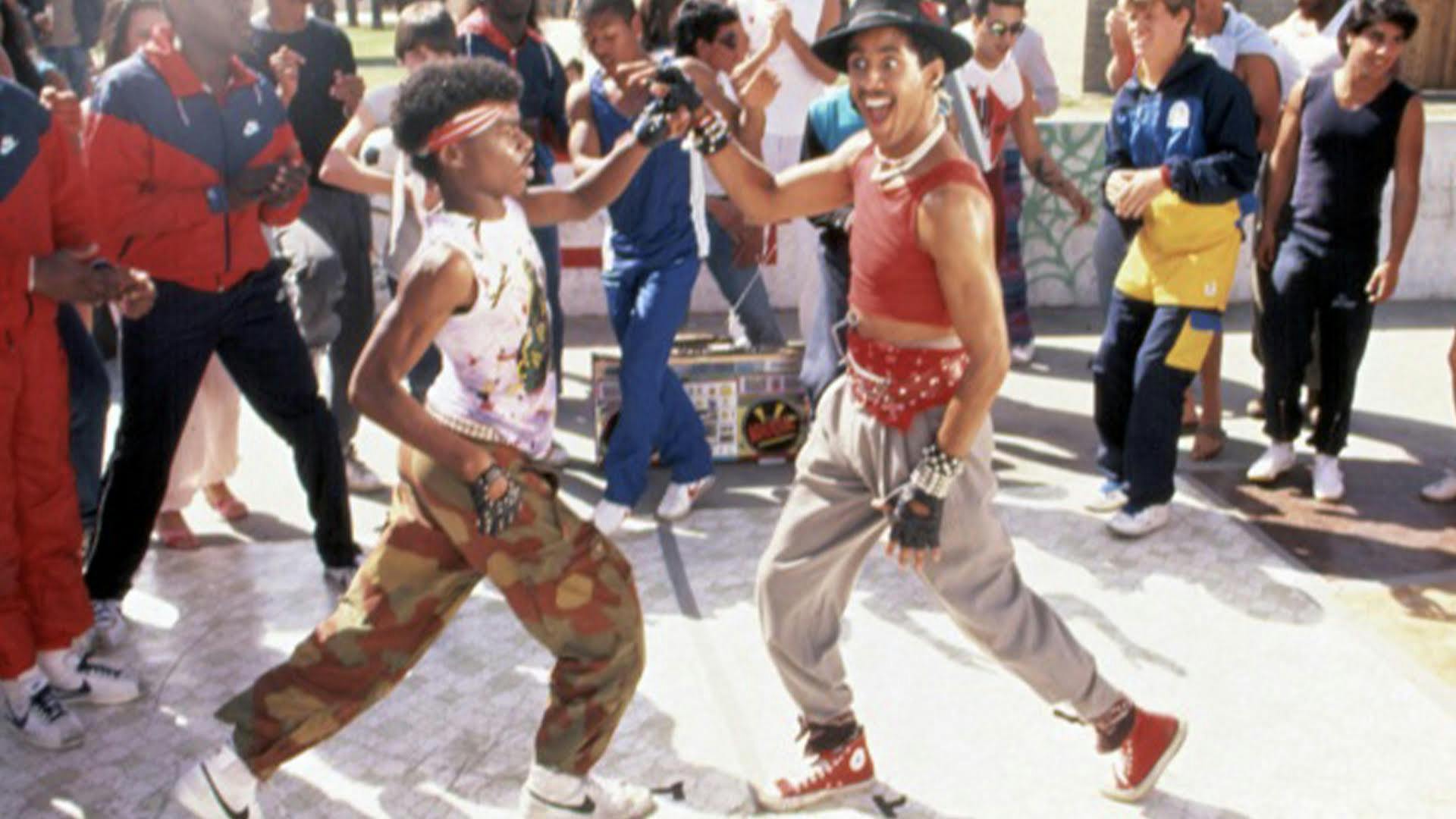 MICHAEL CHAMBERS: After the Lionel Richie tour, Shabba Doo's agent came backstage at Lionel Richie's concert in LA and said, " I'd love to represent you." After we got back from tour, we danced in a video for Norma Kamali, the fashion designer, who was trying to come out with a video that she could debut in the malls to help her fashion line. It didn't go anywhere but they paid us and edited Chaka Khan into the video. It got a lot of airplay in the shopping malls. People started recognizing me. I was a little ghetto superstar. And word got out that the writer for the movie Breakin', David Zito, told me that they went out to the neighborhoods, to the clubs to find the best of the best, and people kept telling him 'you got to check out this guy, Boogaloo Shrimp.' They came to see me in a dance battle at Big John's Hall in Carson, against one of the dancers from this rap group called the Booya Tribe. It was a Samoan group. I was 14. There was a lot of tension. People were trying to watch everybody's back because back then, there was the Bloods and the Crips and all this other stuff that had nothing to do with dance. the best thing about that battle is, I won the respect of the Samoans. 
Adolfo got the call to come in to read for the part of Ozone, so I went with him to try out for Turbo, not knowing what a cattle call it would be. Their casting call brought in everybody. I danced until my Gheri Curl grease went dry. Then in second round callbacks, they wanted me and Shabba Doo to read lines together—no dancing. We already had chemistry because of the Lionel Richie tour, so after we read and they said, "we have our Ozone and Turbo!" everyone went bananas.
CHRIS MACDONALD [actor who played 'James,' Kelly's agent]
Joel Silberg called me in. We sat down we chatted. He didn't know much about this street dancing world. I told him I didn't either and he said that's perfect because you'll be playing the manager of this girl who's got classical dance training. I asked 'who's the girl?' When he said 'Lucinda Dickey' I said fantastic, I had just worked with her on Grease 2.
LUCINDA DICKEY: In the beginning it was very intimidating because Shabba Doo and Shrimp were so talented and in that era, there were street dancers on Hollywood Boulevard, it's not like I hadn't seen that, but I just had never tried any of it. We went right into rehearsals, ready or not. 
BRUNO FALCON: The Venice Beach scene was cool. Jean-Claude Van Damme was an extra. I shook his hand and didn't know him, but I remember he didn't speak English.
CRASE: The first actual project was to do the Breakin' piece. I brought a sketch of the title to Cannon's offices in Hollywood. Then we went to the location in East LA, where I would paint the logo on the side of a liquor store. I looked like a New York B-boy, not Chicano, so my presence in the neighborhood got attention. I had my friend Rueben from New York with me and Ricky from Shake City Rockers. After I painted that day, they came up with the idea for us to paint the Radio. Somebody from Cannon picked me up at 8 am and brought me there. When we got there, they said to just do whatever you want on the wall—not on the stage. When I started to paint, someone said there was a contractual dispute and the owners or Radio was not allowing the film company to use the name. But I had already painted the words 'Radio Club.' So I went over 'Club' with 'Tron.' I asked if I could bring somebody else in to finish and they said sure, so I asked my friend GRAFF. 
GRAFF [graffiti writer/extra]: I was part of the Shake City Rockers, which started in '81. We had a lot of DJs and MCs from New York in our crew. Through them we met Evil-E, Ice-T's DJ. We all went to the Radio Club. Ice-T wasn't famous yet. He was local. We used to hang at his apartment in Hollywood, by the 101 Freeway, near Gower and Hollywood Boulevard. The graffiti at the Radio Club was downstairs—everybody tagged the basement. I danced and auditioned for the movie but didn't get in. But my buddy CRASE got to do the graffiti because he had his black book when he met David Zito. Then CRASE asked me to help him. That was Craze's outline. And me and another guy from my crew, Speedy T, helped out. I'm in the movie as an extra, too—sitting on the speaker on the stage.
CRASE: After I did another piece, they asked me if I wanted to be an extra on the set. I said, "Oh, sure." So, there are a few scenes, like in the club scenes you will see me on the stage on the right-hand side. I'm in one of the trailers, where you see Shabba Doo dancing and I'm right behind Ice-T painting on the wall. I also wound up getting into the beach scene, as well. 
LUCINDA DICKEY: I was bruised head to toe from learning the windmills. I never really mastered them, though I tried.