The jump to the multiplatinum success of 1993's Very Necessary gave Salt-N-Pepa a huge pop audience, and with it came further controversy. The album's second single "Whatta Man" would be a monster hit heading into 1994, cementing the group as not only one of Hip-Hop's most successful acts, but as one of the biggest in music. As they were casting the male leads for the "Whatta Man" video, Salt chose embattled rapper, Tupac Shakur.
She'd met Shakur through Pepa's boyfriend Treach and she and 2Pac bonded over time. Salt's friendship with Shakur became a topic of rumor and scrutiny, with the late rap star appearing in 1994s "Whatta Man" video while his many legal issues were making headlines. The song, which featured R&B divas En Vogue, was a massive hit and the video featured Salt and Shakur getting cozy in a bedroom scene but curiously never showed Shakur's face in full view.
"The record company all panicked and only kept shots where you can't see him," Pep says of Pac's appearance in the video. "There were some great 2Pac shots. And Salt always kicks herself. You can't fight the record company."
"It was the whole reason," Salt says, confirming the label's involvement. "I hate that when I watch the video, it really bothers me."
2Pac would reach an unforeseen level of infamy after his subsequent shooting, imprisonment, and signing with Death Row Records, but even in early 1994, he was already one of the most notorious men in music. And one of the most compelling.
"Being around him, that guy had charisma. He was the most amazing person that walked in the room. When he walked into a room, it was truly all eyes on him," Salt says, referencing Shakur's 1996 album. During Shakur's subsequent incarceration, Salt-N-Pepa would make an appearance in the steamy video for his single "Temptations," playing strip poker in a memorable scene.  
2Pac's face wasn't the only thing edited out of the "Whatta Man" video. The popular vid also has one of Pepa's most provocative video moments: cooing at the camera seductively while spreading her legs wide in a bubble bath. It was eventually removed from re-airings, another move that she says indicates the record label not wanting their act to push too far.
"It was too much for TV, I guess, the way I did it," she says, still clearly annoyed with the censorship. "I guess. It was hittin' for a minute! And then, after a while, with [my] legs opening, you didn't see it. The record company was like, 'Omigod' with everything.
"So I guess with my legs out, it was a controversy. They got heat from it. They make those decisions. I remember not wanting to take anything out!"
Very Necessary was a monster success for Salt-N-Pepa, selling five million copies in the U.S. en route to becoming the all-time best-selling album by a female Hip-Hop act. Years after Salt-N- Pepa had started out as the girls from Queens calling out Doug E. Fresh and Slick Rick, they'd now become pop superstars and style icons.
"That's when we started working with Sam Fine and the best of the best," says Salt. "Derek Khan. Dolce & Gabbana. That's when all the name brands were coming in and giving us stuff. It went to another level."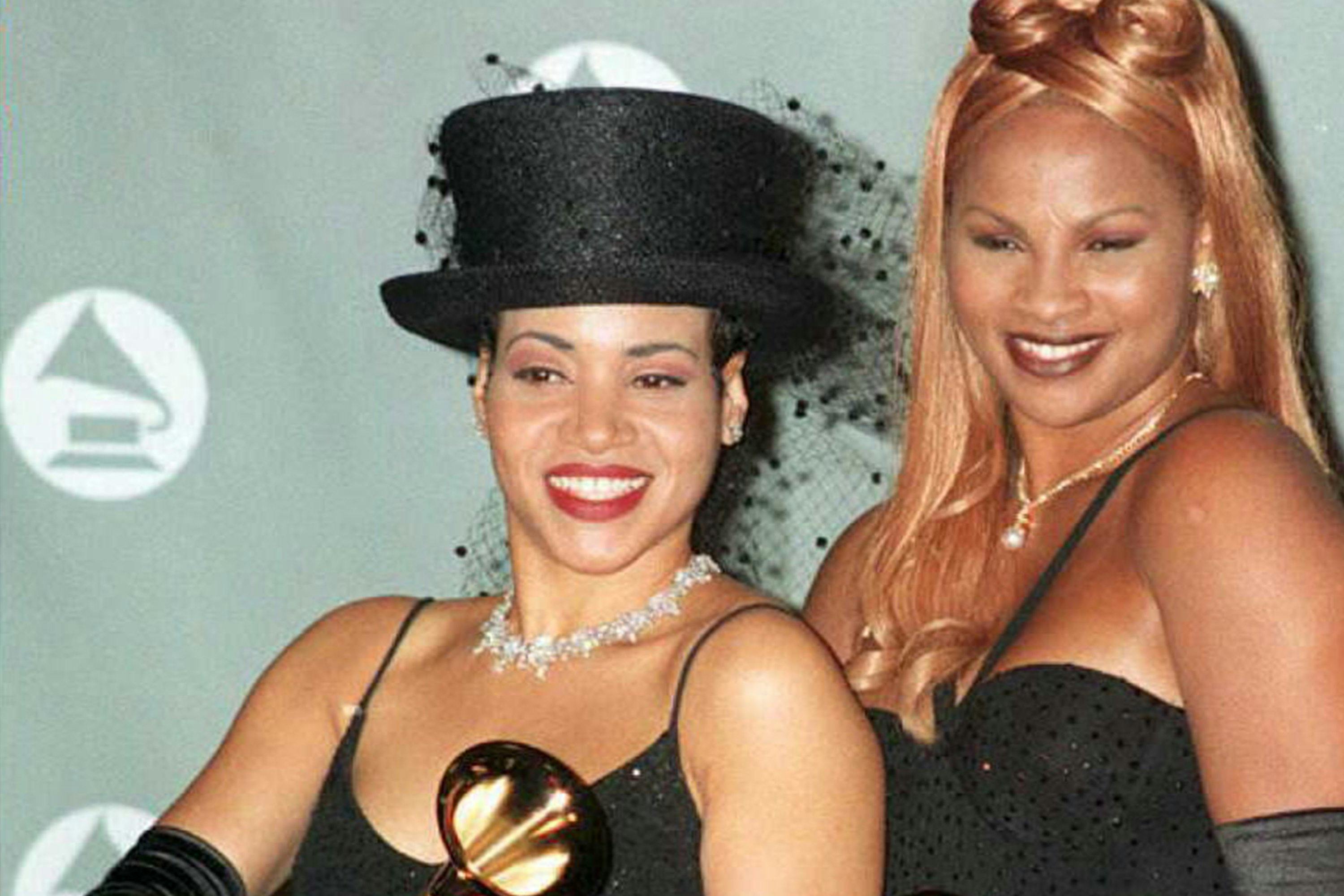 Philippe AIMAR/AFP via Getty Images
Six years after Salt-N-Pepa joined the Hip-Hop boycott of the 1989 Grammy Awards show, they broke ground for women in Hip-Hop at the 1995 ceremony. It was a major year for Salt, Pep, and Spin as they became the first female Hip-Hop artists to take home a Grammy for Best Rap Performance by a Duo or Group for their hit "None of Your Business."
"To win the Grammy and get televised," Pepa says. "Hip-Hop women — first time! I remember that because of all that went around it."
There were congratulations coming from old friends and new. One old friend in particular sent a strange gift to their dressing room.
"When we won the Grammy, [2Pac] sent Salt-N-Pepa a cake in the shape of a gun as a congratulations," Salt says. "We were like, 'What is that about?' It was just his way. He was always in his own zone."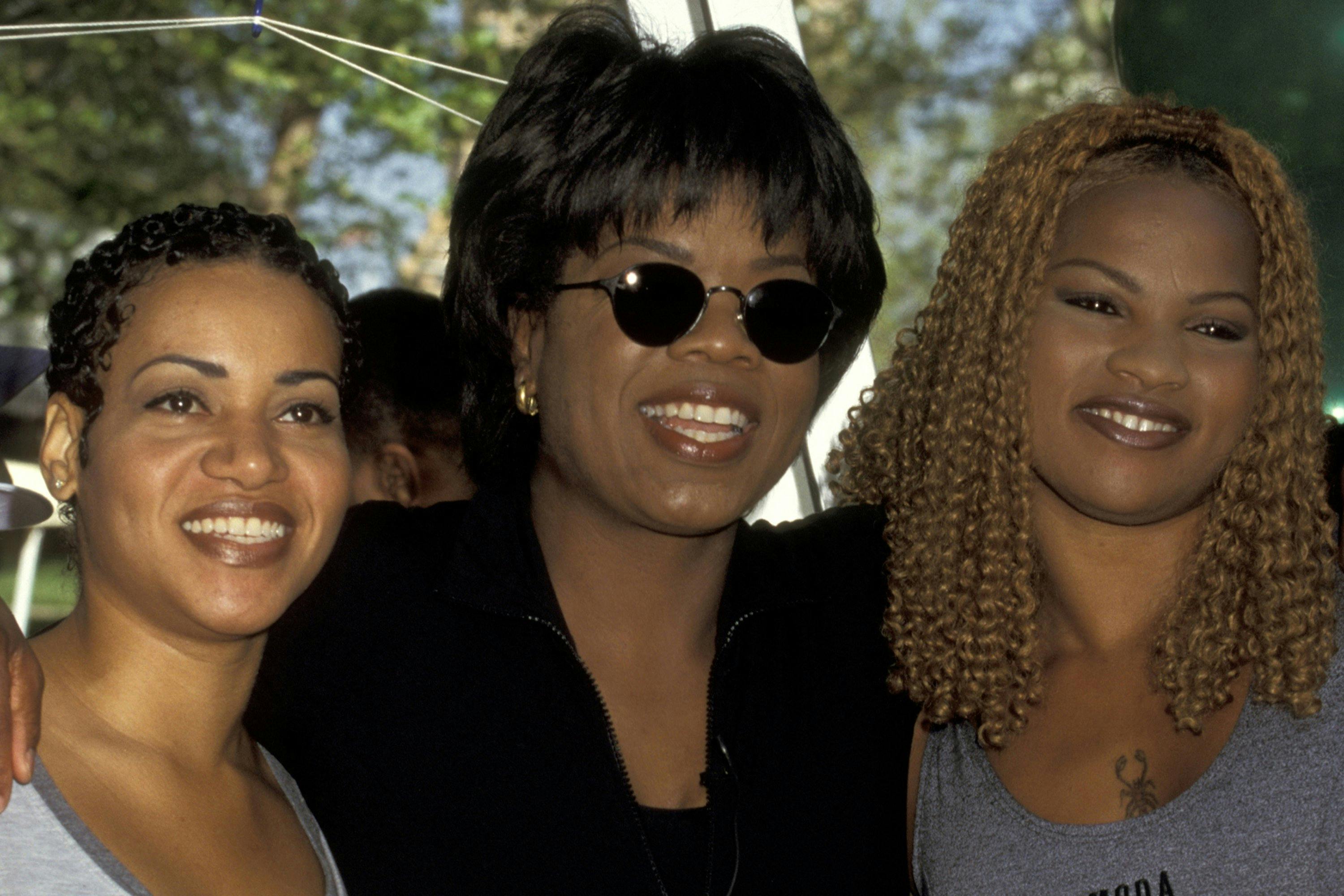 Photo by Ron Galella/Ron Galella Collection via Getty Images
In addition to 2Pac's gun cake, Salt-N-Pepa got Grammy kudos from Tom Hanks as well as Oprah, who invited the girls out for a charity run the next day after the big win.
"Oprah, that night, [said] 'Hey girls, I'm running in a marathon in Central Park and I'd like you girls to run in the morning,' " Pepa says. "And we were like, 'What time?' And Oprah was like, 'Six.' I was like, 'Whew. OK.' " Salt-N-Pepa were ecstatic at the invitation but partied hard into the wee hours in celebration of their big award.
"I celebrated so hard that night," Pepa says. "I was drinking and Salt and I were partying and I was like, 'Can you get to the Oprah thing? I can't get to it. I'm hungover.' We called the manager like, 'We don't think we're going to be able to run!' and the manager called back and said, 'Oprah called back and said there will be a car downstairs and you will be in it.' I sobered the fuck up! Me and Salt was like, 'I think we better get in that car.'"
* Banner Image: Salt 'N Pepa appear in a portrait taken on the set of their "Whatta Man" video shoot in New York City / Photo by Al Pereira/Getty Images/Michael Ochs Archives