"I would've loved to have something from DMX to hold onto after the brotha is gone because I understand how valuable and priceless his wisdom was. We can't get that from nobody else. Can't nobody duplicate the spirit of DMX. So for the brothers who are winning, we've got to drop gems." 
Ross is supportive of making sure the public sees Black men climbing the ladder. His feud with 50 Cent is well-documented, and Ross still shrugs off any suggestion that things aren't still frosty between them while acknowledging that success isn't about becoming buddies with everyone. 
"He still ridin' in the trunk," Ross says dismissively of 50. "But as a boss, there's no greater feeling than when we you become successful without the help of the fakes or the fake love. These other entertainers are not the priority. Not at all. When you're chasing your dreams, just go hard."
As a matter of fact, Rick Ross believes you should embrace your outsider status early. Or at the very least, let it fuel you as you build yourself up. Don't expect people to support you.
"Whatever it is you're doing, don't expect a lot of love at the beginning," he says.
"Don't expect a lotta people to see your vision. They not supposed to see your vision. But it's going to get to a certain point where they will bow down and see your vision and they will acknowledge your vision."
It's clear that if you're waiting for validation, Rick Ross doesn't believe you can ever truly get started on your path: visualizing and self-actualization are keys.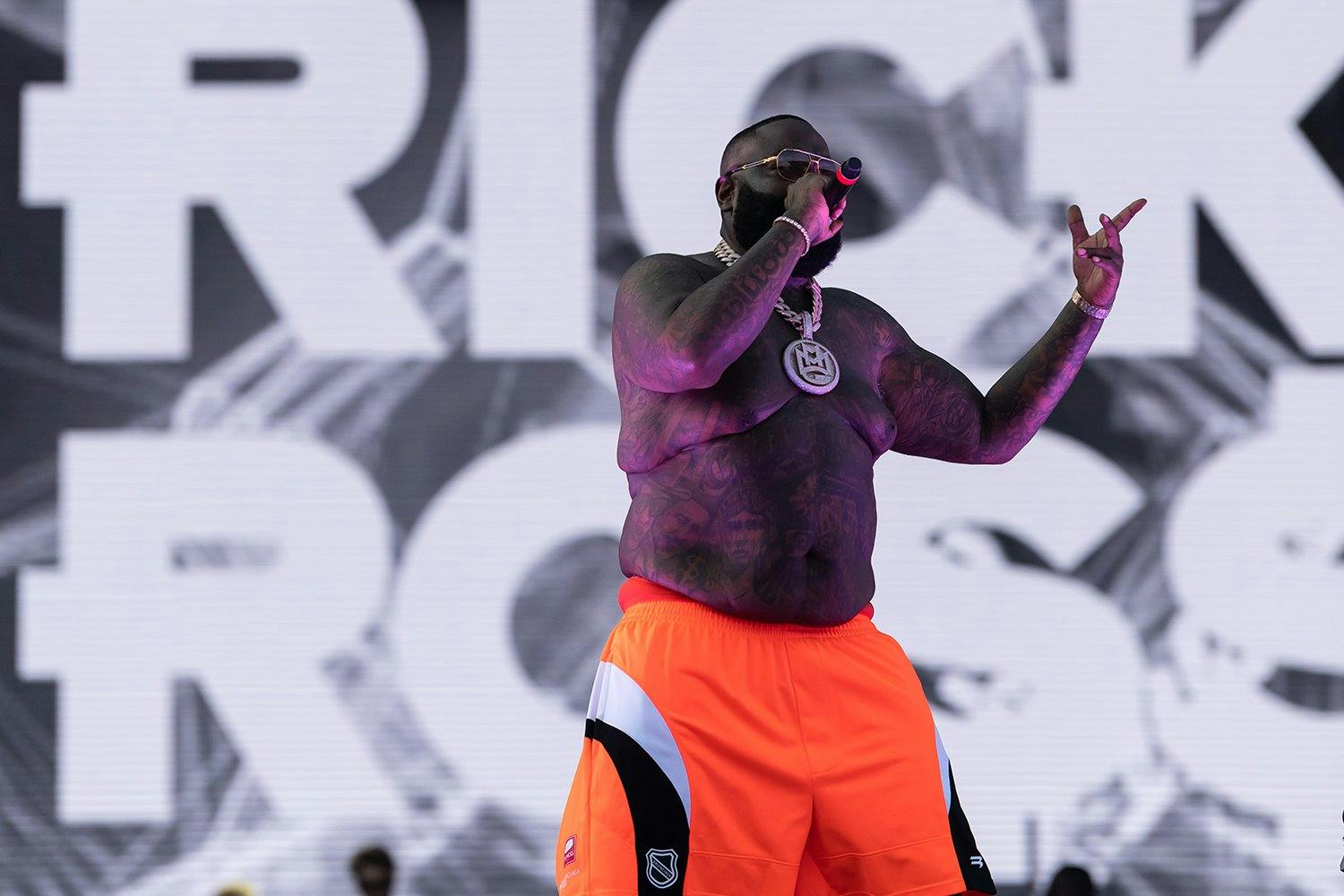 "If you're a fashion designer, sometimes you gotta make that shit and wear it yourself. Somebody will feel it. Sometimes, you can't wait for the co-sign."
His business instincts have led him to a famous partnership with Wing Stop, and this spring, Ross made headlines with his $1 million dollar investment in Tommy Duncan's healthcare startup Jetdoc, a mobile virtual urgent care application founded to provide affordable coverage for underserved Black and brown communities.
"For me, first and foremost, it's gotta be genuine interest, not just about a dollar," Ross says of his moves. "It's gotta be genuine interest. Because I've got to really want to put my heart into it. If my heart isn't into it, if it's about a dollar, soon as it begins to fail, you'll jump ship. A lot of times in business, something can take off and then dip. But as long as your heart is in it, as long as it's something you love, that shit could take back off and keep climbing. It's gotta be something that I genuinely want to be a part of it. Secondly comes the paper, but I've got to want to be a part of it, first."
And health matters to Rozay. In 2018, he suffered a series of debilitating seizures. He detailed the experienced in his 2018 memoir Hurricanes. But the health scares sparked his dedication to improving his lifestyle. 
"I've been overweight my whole life," he says. "But I'd always been an athlete. Could hit somebody with that two-piece, had a nice sprint, you know. But certain things I was doing took a toll on me and I began having those seizures. What shocked me the most was when I told everybody, so many big homies and celebrities took me to the side and said 'I had a seizure, too.' It made me realize how many other people had so many issues."
Now, when he reflects on his health (Ross also contracted COVID-19 last year), he understands that part of the issue is his devotion to the grind.
"It came down to me chasing my dream so much I wasn't getting no sleep," says Ross. "Not resting. Of course, I was drinking codeine and doing some other things. But even as soon as I cut that off, the fact that I wasn't resting--I was still having these seizures. Now I take a nap during the day! An hour or two, I'm doing better! I never thought I would do that."
Rick Ross is building an empire. He's had to pull back and understand how to balance ambition with self-love and taking care of your body; but make no mistake, Rick Ross is all about the grind. He's smarter about it these days, but that drive has never diminished. 
"I may have had an issue, but I wanted to succeed so badly that for every hour I laid in the bed, I felt like I was losing," he explains. "So that's what I try to explain to other people: when you come and sit at the table and talk about doing business with me, I pray that you understand how much this shit means to me. Do I have a problem? I don't know. But I know I'm not comfortable with wasting time. Let's win, homie."