With Yo! Bum Rush The Show, P.E. intensified Run-D.M.C.'s sonic blueprint. There are flourishes of rock guitar (most notably Vernon Reid's flashy showcase, the controversial "Sophisticated Bitch") and the kind of stripped boom-bap that Def Jam had taken to the top of the charts via L.L. COOL J and the Beasties. But the Bomb Squad dug deeper; this was even harder, and more propulsive. And Chuck D's baritone gave voice to a new kind of B-boy.
The righteous anger that would come to inform latter P.E. classics like It Takes A Nation of Millions To Hold Us Back and Fear Of A Black Planet is still in somewhat nascent form on Yo! Bum Rush The Show. If latter day Chuck D seemed to rap about societal issues from a proverbial pulpit; early Chuck D is still very much a b-boy staring out from his '98 Oldsmobile while rolling with his boys. His political perspective is present, and his voice is fully formed; but there's an emphasis on youthful expression that speaks to a man in his mid-20s. Chuck is already old enough to know that rap music can do, say and be more; but he's still young enough to cling to the fun of partying and bullshit.
And then, of course, there's Flavor Flav.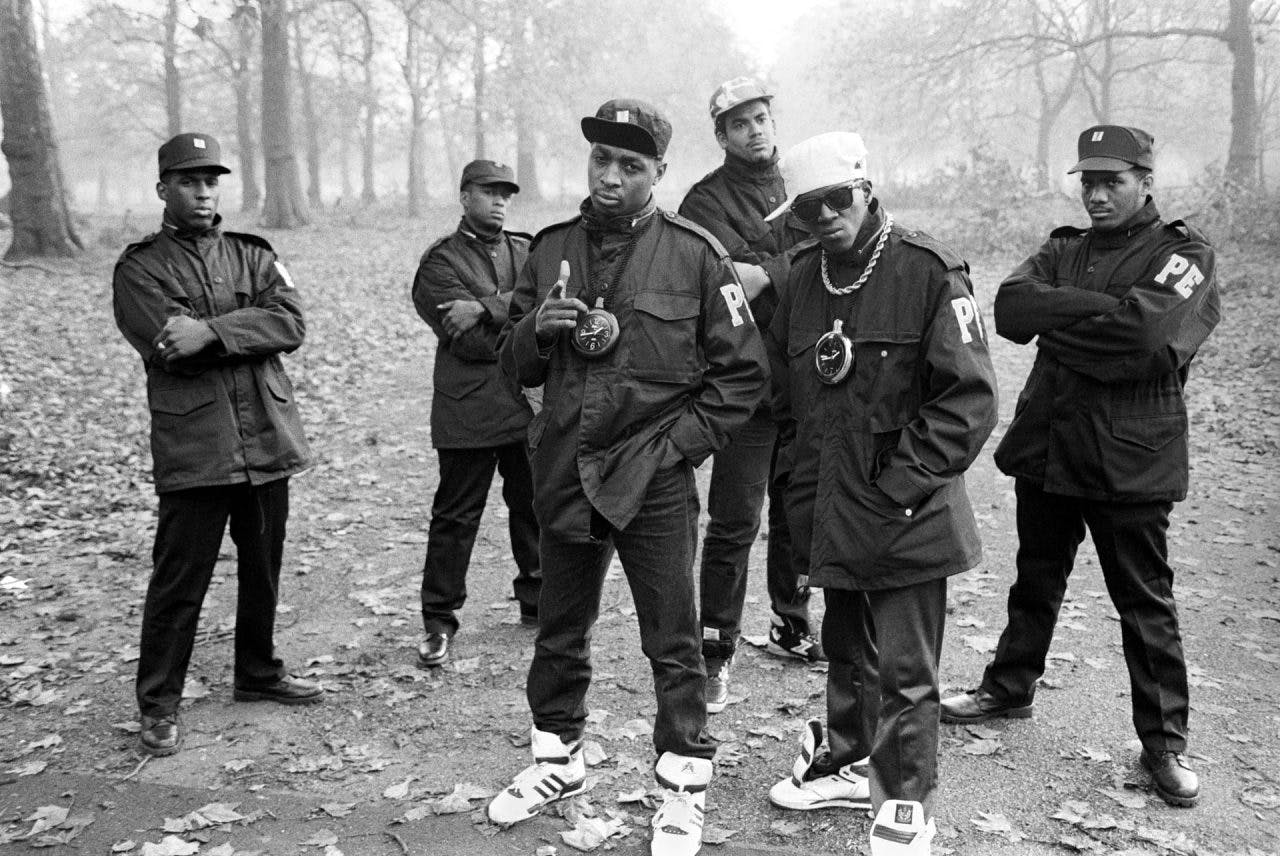 "When you're listening to Chuck and Flavor, what you're listening to is two different frequencies coming together to make a chord, " Shocklee observed. "Flav is an octave higher than Chuck, which adds for a nice, unique blend. Attack and release: Chuck is giving you the attack, Flav is the release."
They'd recorded the album in Manhattan's Financial District, at I.N.S. Recording; where others such as Keith Sweat were booking time. "Timebomb" was the first track recorded for the album itself; and the funky groove features Chuck showcasing his effortless emceeing over the beat. "Too Much Posse" is P.E.'s comedic Flav showcase—an album tradition that would continue for the next 35 years; and "(Rightstarter) Message To A Black Man" is Chuck raging against apathy and demanding knowledge in the face of oppression; the clearest indicator of the kind of topicality P.E. is about to become world famous for. And "Megablast" took aim at crack addiction, with its hypnotically sparse groove complemented perfectly by Chuck and Flav's unison raps and "Just gimme just one more hit" hook. The sludgy thump of tracks like "M.P.E." and the title track highlight the Bomb Squad's knack for finding off-kilter rhythms a decade before RZA's skeletal loops on Enter the Wu-Tang: 36 Chambers.
The album's sonic abrasiveness led to a famously misinterpreted Village Voice review entitled "Noise Annoys," (and that same review directly inspired one of P.E.'s later singles "Bring The Noise.")
From the beginning, Public Enemy was rejected by mainstream Black radio. It drew a line in the sand between Chuck's fiery rhetoric and the more middle-of-the-road affectations of popular Black platforms. Chuck seized on P.E.'s notoriety and made sure he was clear and to the point with the group's messaging, building his rep as a new kind of 80s Black star. In a famous interview with SPIN magazine, Chuck laid out his group's ethos and defended the oft-criticized violent imagery of songs like "Miuzi Weighs A Ton."
"Because my Uzi weighs a ton," Chuck replied when asked about the group's references to assault weaponry. "My Uzi weighs more than a ton. There's no limitation to the weight of my Uzi. My Uzi is my mind, the bullets are the words I speak. You know what I'm sayin'? So there's no limitation to that. You know the mind is heavy. And words are heavy. The words are comin' at you rapid-fire. Like a machine gun—da-d-da-d-da-da-da-da-da. But it's not promotin' guns. It's not promotin' violence."