He invented a whole menu of signature styles, which he gave whimsical names like "phasemagorical phantastic" (bubble letters with stars), "bubble cloud" (bubble letters surrounded by a cloud pattern), "checkerboard phase phantastic" (bubble letters crosshatched), "bubble big top" (bubble letters with outsized tops), "squish luscious" (swerving, speed-streaked bubble letters), and dozens of others.
"Unlike SUPERKOOL, I took an approach to piercing beyond the signature style and developed mine from simple to more formatted, more diverse, and wilder styles," PHASE told International Graffiti Times.
PHASE 2's energy and inspiration didn't come from other writers as much as his own self-professed "rebelliousness in the soul." He likened his imaginative state to being out of control and fast-paced — like freestyle dancing in a euphoric atmosphere.
"His lettering constantly changed; you never saw his tag repeat itself," said Hugo Martinez, the founder of United Graffiti Artists, in The New York Times. "He was constantly trying to destroy himself, destroying his previous style."
For some, the masterpiece era was proof that there was artistic merit to writing. For others, it was a signal that the so-called inmates were now running the asylum.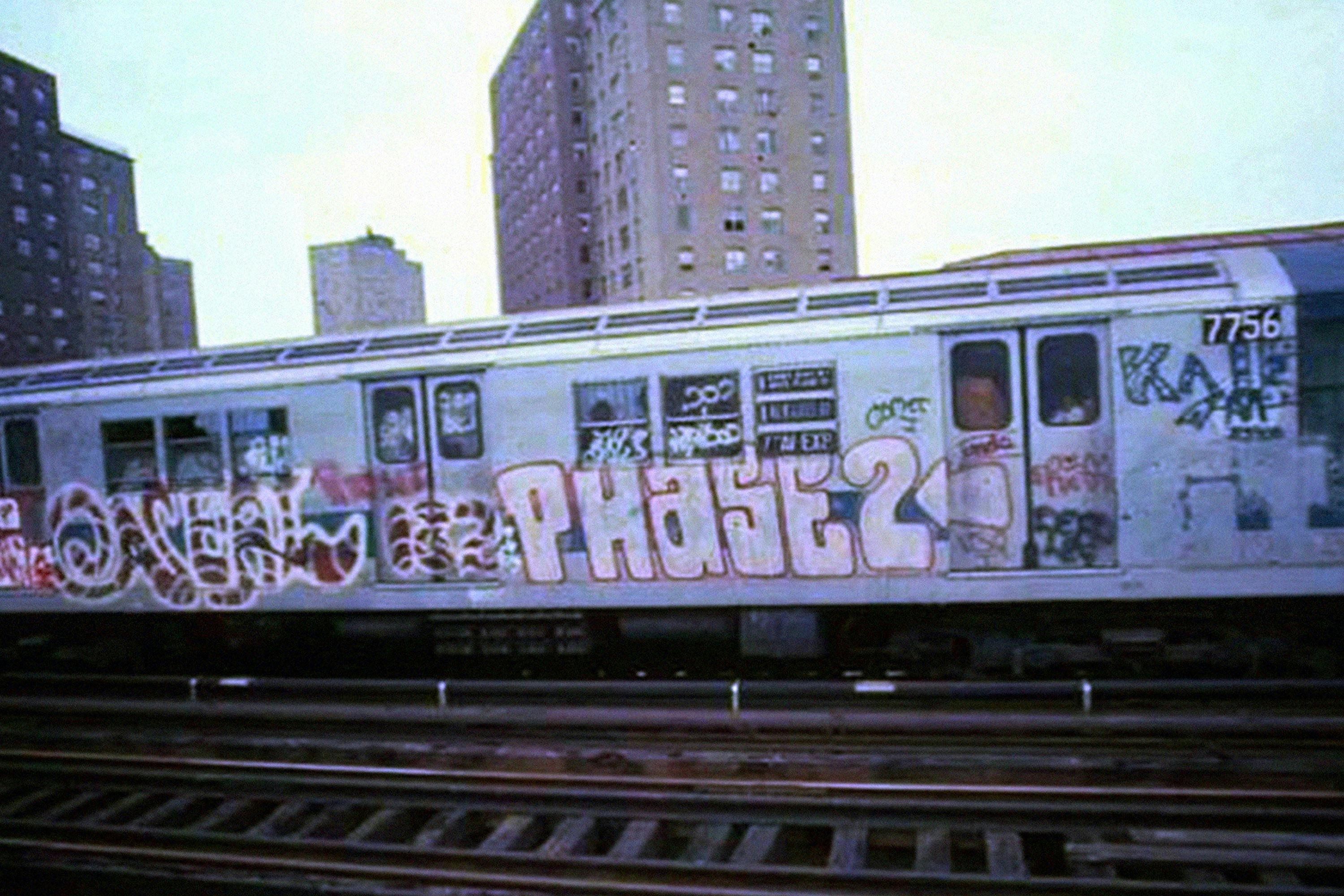 PHASE 2 ON SUBWAY / PHOTO: MICHAEL LAWRENCE & HERBERT MIGDOLL
Patrolman Steven Schwartz was three and a half years into his tenure as a transit cop when the masterpiece era blossomed. He took it upon himself to crack down on the writers inside the train yards on 225th Street and 231st Street. Schwartz was first drawn to the assignment a year earlier after witnessing two daring writers leaving their tags behind on the District 4 police station.
"They start out small with thin dry markers, and then they graduate to half-inch marker, and then it's the big leagues — Red Devil, Rust-Oleum or whatever other kinds of spray paint they can steal," Schwartz told the New York Daily News.
Writers like PHASE 2, SUPERKOOL 223, RAY-B 954, SWEET DUKE 161, PINTO 168, and KOOL KEVIN I became his sworn enemies. PHASE 2 reveled in the cat-and-mouse game between him and Officer Schwartz.
On one occasion, Schwartz was specifically looking for PHASE 2 when he descended upon a group of six writers. All of them scattered except for PHASE, who casually finished his Carvel's ice cream cone. He wanted Schwartz to know that he couldn't be intimidated. But instead of lobbing insults, he used the pen like a sword — leaving behind a poem for Officer Schwartz.
"If you only knew / the real PHASE 2 / the super sleuth / who's still on the loose / you caught Cool T/ but you didn't catch me / I got away while eating / my vanilla ice cream."
PHASE 2's masterpieces were revolutionary because they shifted the notion that writing was a game of repetition. While others worked diligently to make their tag consistent and repeatable like the Coca-Cola formula, PHASE enjoyed the experimental aspect of the art form.
"One of his main contributions was he was into evolution," says '70s-era writer VULCAN. "Things don't stay the same; we can change them. When his pieces rolled by, you'd want to watch it every day because he was doing something different."
Writers Corner 188 & UGA
In 1972, Hugo Martinez, a City College student majoring in philosophy, would often pass through the 91st Street Station when he was coming down from school. The names scrawled on the tunnel walls left him with more questions than answers.
As a scholar, Martinez had spent time examining gangs of the era, like the Savage Nomads and the Young Galaxies. He understood quite clearly that there was something different driving these writers beyond just marking their territory.
He eventually approached the teenagers on WRITERS CORNER 188 in Washington Heights — the preeminent meeting point for writers of the era. The spot itself bumped up against a five-story building with a six-foot-deep alley running around it.
Martinez offered these kids an alternative to writing in the streets — a space at City College to ply their trade as artists. With this promise, he was able to recruit some of the best writers in the city, including SNAKE 1, SJK 171, MIKE 171, STITCH 1, HENRY 161, WICKED GARY, BAMA, COCO 144, and PHASE 2. Following his vision, he organized them into a formal collective, United Graffiti Artists, which came to be known as UGA.
"I started United Graffiti Artists in 1972 as a collective that provided an alternative to the art world," Martinez told New York magazine. "I saw this as the beginning of American painting — everything else before this came from Europe. These kids were rechanneling all of those hippie ideas about freedom, peace, love, and the democratization of culture by redefining the purpose of art. They represented a celebration of the rights of the salt of the earth over private property."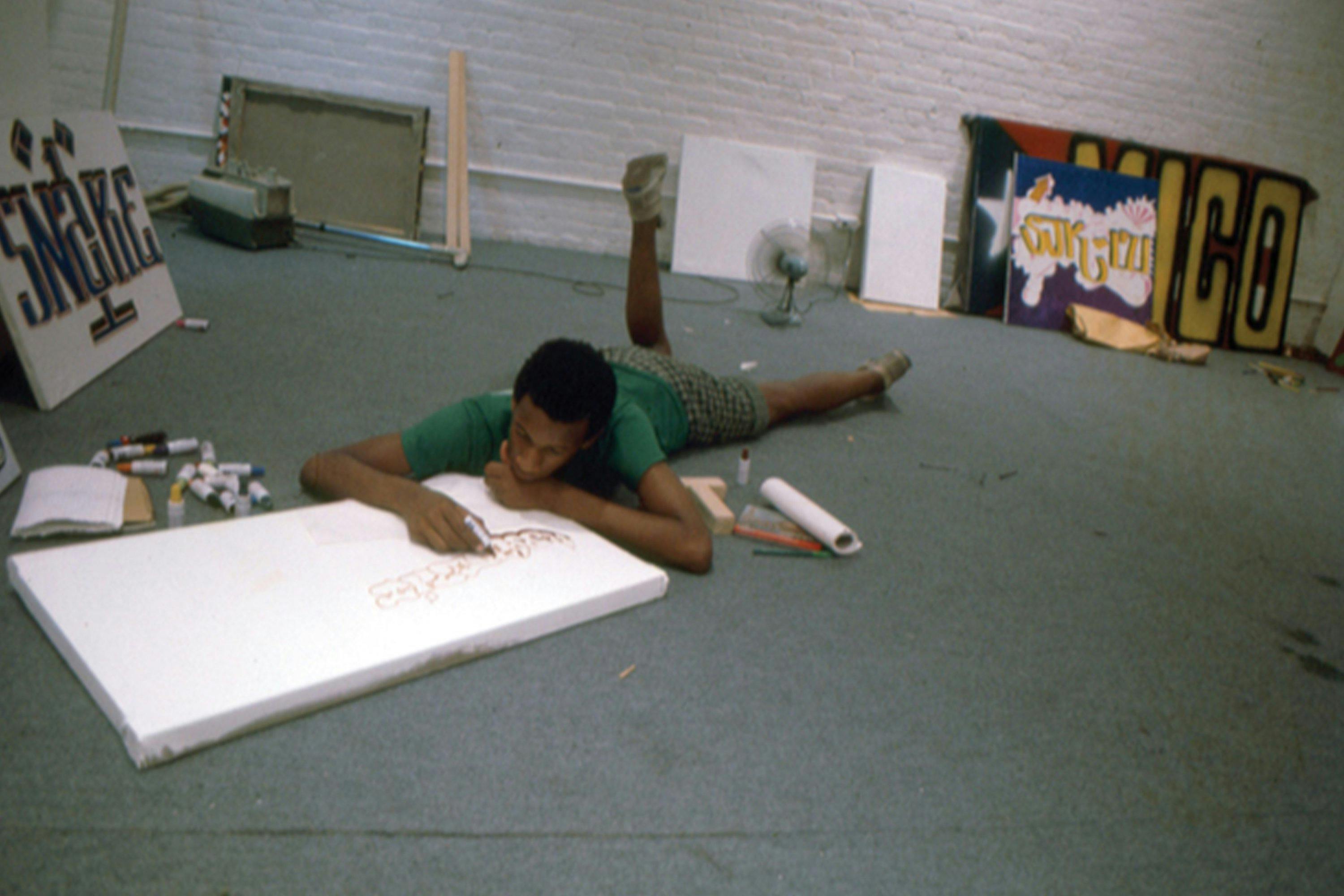 PHASE 2 ON SUBWAY / PHOTO: MICHAEL LAWRENCE & HERBERT MIGDOLL
As word spread that an indoor space existed at City College that provided paper, spray paint, and markers, other writers from Brooklyn and the Bronx were inspired to join.
Martinez urged PHASE 2 and his fellow UGA members to create canvases for a proper gallery event. In December 1972, City College hosted the first official UGA show, featuring a group work on a single 10-by-40-foot wall canvas.
As important a moment as this was in raising the profile of these writers to the level of artists, it also fostered a spirit of collaboration — and lifelong friendships — among them. Unlike relationships that involved a building up of trust, COCO 144 describes his connection with PHASE 2 as instantaneous.
"You meet someone and you know they're going to be your friend forever," COCO recalls. "We jived like that. He just had this really beautiful energy."
Herb Migdoll, an arts photographer who attended the inaugural City College show, pitched the idea of bringing UGA's work to the Joffrey Ballet. In March 1973, 18 UGA artists painted a rolling backdrop on stage during the ballet's production of Twyla Tharp's Deuce Coupe, which mixed classical choreography and the songs of the Beach Boys. The show's program thanked Martinez and artists like PHASE 2, SNAKE 1, STITCH 1, COCO 144, and others for their contributions.
The New York Times noted in its coverage, "Early in the work, six genuine graffiti artists with spray cans come on to do their stuff on three panels downstage. Perhaps unintentionally, 'Deuce Coup' is about co-optation. Without being romantic about the frenzy of graffiti that burst upon the city, it is illuminating to find that their creators are now apt to perform onstage for others rather than just for themselves. Similarly, the Beach Boys — with their affluent images of sun, surf and cars — are a reassuring transmutation of the working‐class rock that preceded their rise in the sixties."
The pinnacle of UGA's success came on September 4, 1973, at Razor Gallery in Soho. The exhibition, "The Best of M.T.A.," boasted 20 former — and active — subway writers. The show's highlight was a 30‐foot collaborative mural bearing the names of more than a dozen artists — including SNAKE I, STICH, SPANK, SJK 171, COCO 144, AMRL, C.A.T. 87, MICO, PHASE 2, T-REX 131, FLINT 707, and BAMA.
"PHASE would come back and highlight something for someone else, and then someone else would do something around him, so there was ... I'm not going to say it's hard to describe in words," remembers COCO. "It's just this experience, living this, that moment was like the perfect song. It's like the perfect beat on that drum."
Writing in The New York Times, critic Peter Schjeldahl singled out one of PHASE 2's canvas works: "PHASE 2's name is couched in fat, sensual, screaming‐pink script set in an ambience of blue billows."
Other publications, like the New York Daily News, questioned why writing was being brought indoors in the first place.
"What am I doing in this art gallery's steambath atmosphere looking at yards of names like PHASE II and FLINT 707 when I have been saturated by miles of names like these every day on the summer steambath called the subway," Ernest Leogrande wrote.
Despite his less than enthusiastic tone for much of the Daily News piece, Leogrande couldn't help but conclude by stating, "Despite the negative associations, the graffiti makes dynamic pop art."
Though UGA would splinter over the next couple of years, it had succeeded by at least raising such questions. It also opened up commercial possibilities as writers like PHASE 2 and many others would step partway or in full into studio practices — a dilemma that extends to the practitioners of today.
According to The New York Times, by the beginning of 1975, PHASE 2 had largely given up subway writing, moving his work onto paper and canvas or into sculpture. And he continued to develop new styles, sometimes passing them off to his fellow writers.
"PHASE was a man of great integrity, and a guy who had been confronted with many, many opportunities to compromise himself and his art and his worldview for the sake of notoriety, fame, money," Mansbach says. "And he consistently went his own way. He was a visionary guy."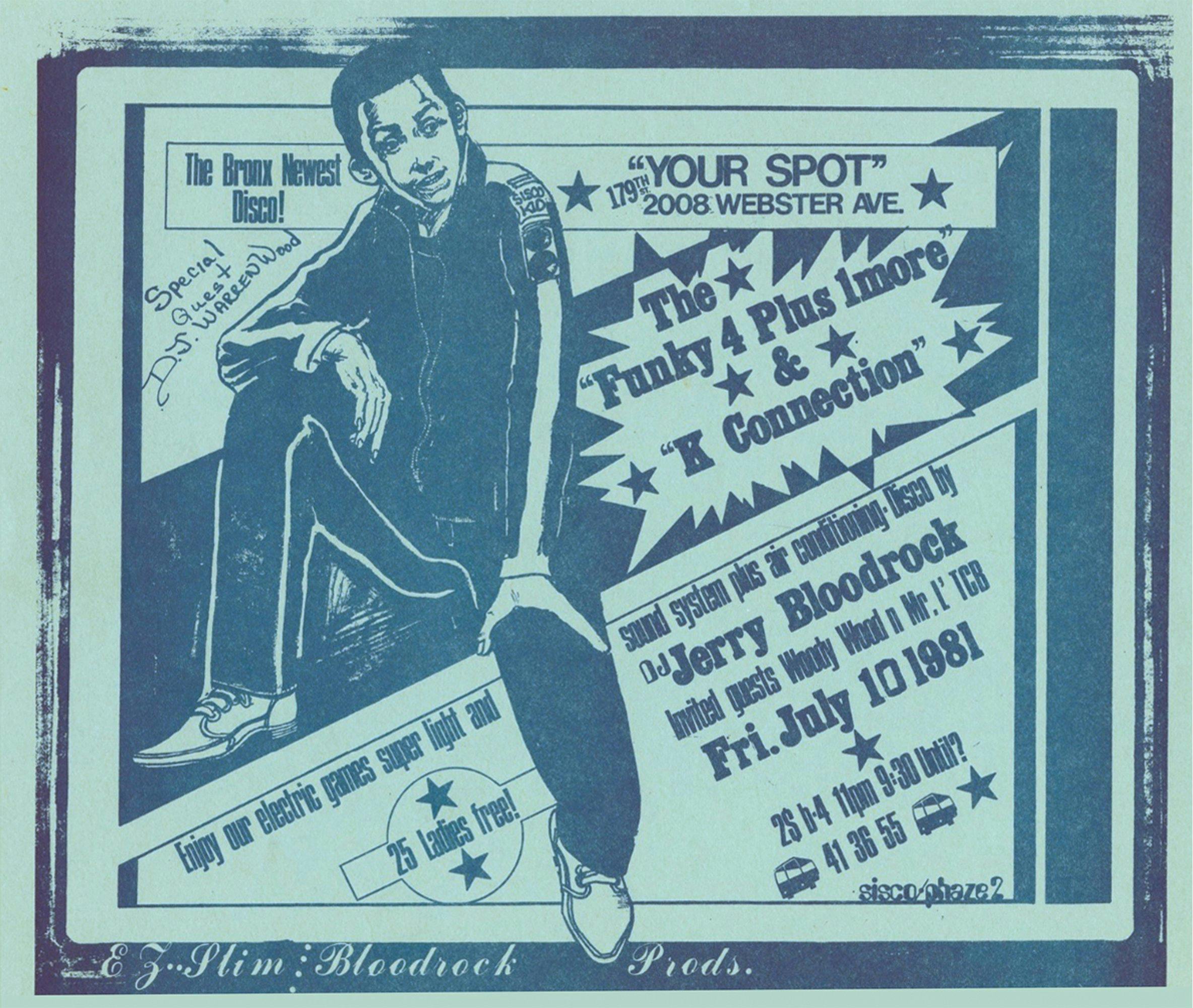 PHASE 2 FLYER
Entry into Hip-Hop
Early writers pre-dated Hip-Hop music. Would-be masters were raised on popular music of the era like rock and roll, funk, R&B, and disco, often channeling the rebelliousness they heard on record into bombing missions. As musicians got bigger and bolder with their own sounds, so too would writers seek out more grandiose styles.
PHASE 2 was someone who zigged when others zagged. As a result, he was one of but a handful of writers from that first generation who actually dipped their toes into Hip-Hop culture — both as a graphic designer connecting the colorful handstyles and bubble letters on walls and trains with the new sound of the streets, and as an actual musical talent as well.
"According to PHASE, he was DJing before Kool Herc," Mansbach explains. "Not publicly, but just doing his own thing on reel to reel."
In 1978, PHASE turned his artistic skill to party flyers. Artists like himself, Buddy Esquire, Sisco Kid, Eddie Ed, Anthony Riley, Brian Hicks, and Danny T. Riley were the main connection between Hip-Hop music and graphic design.
PHASE 2 helped elevate the aesthetic. He took the low-fi, photocopied flyers made from Letraset, markers, cut-up photographs, and glue and added personal homages to art deco, Jack Kirby comic books, Romare Bearden paintings, and manga. The result was lasting pieces of art for Hip-Hop pioneers like Grandmaster Flash, Grand Wizard Theodore, Soul Sonic Force, Funky 4 + 1, and Afrika Bambaataa.
"When I went to Grandmaster Flash's manager to suggest making flyers to advertise their jams, there really wasn't anything like that happening, and that's why I suggested it," PHASE 2 told Eye on Design. "What you did have were big Merengue posters by Salsa Kenny and Izzy Sanabria, but we weren't really promoting jams on any real level like that. I thought that it made sense to, so I started doing flyers for Flash, and then the wave came behind it."
The process was relatively the same each time. PHASE 2 considered the number of acts on the bill, which would inform the typeface, font size, and how many photographs to use. The result was something distinctly his own — "Funky Nous Deco" is what he called it — with personal touches like Chartpak markers, jumping letters, doubled words, stars, circles, squares, and figures portrayed in silhouette.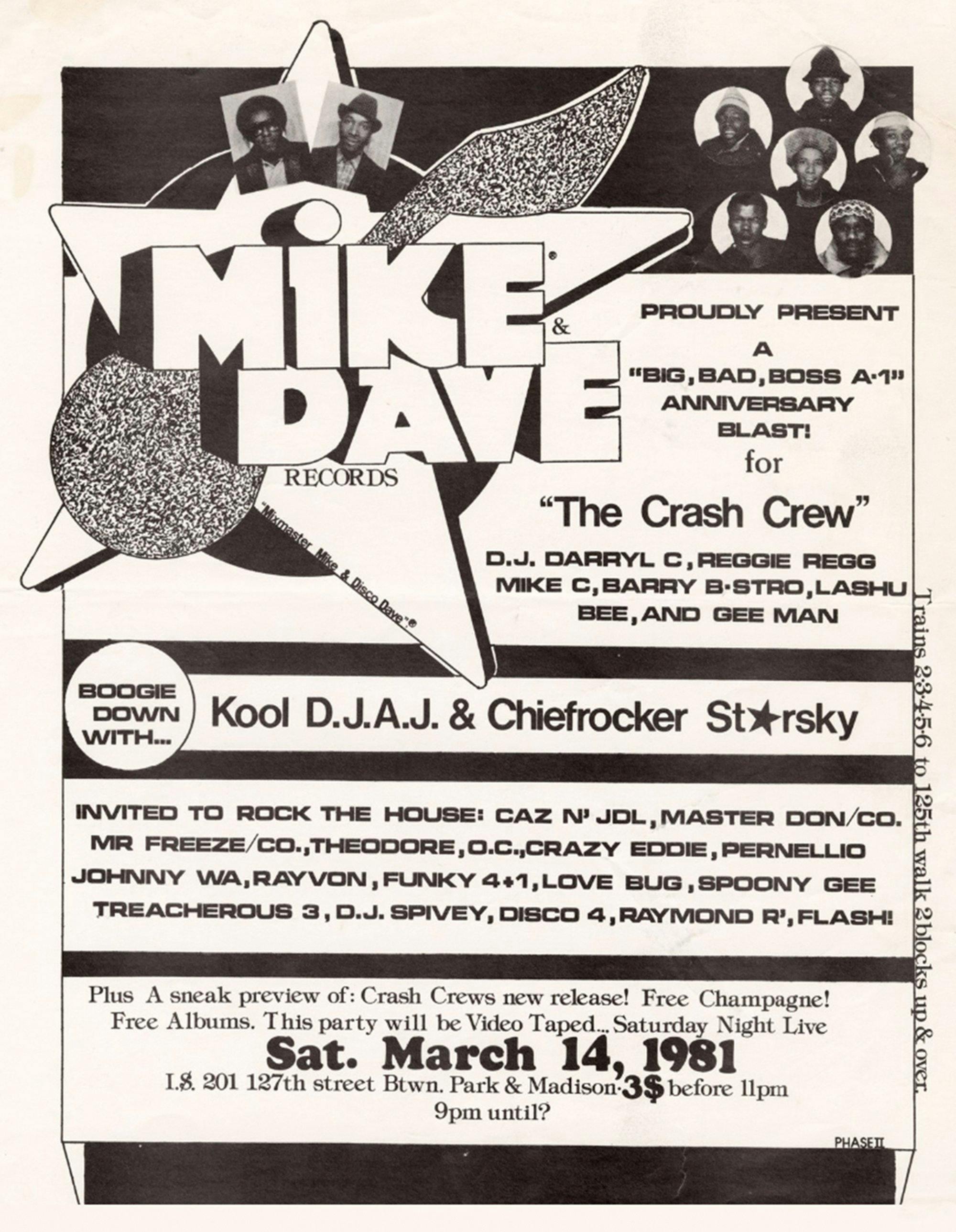 PHASE 2 FLYER
"We could, in effect, make mediocre talent seem like superstars just by manipulating words, using photos, and presenting it extravagantly," he wrote in the November 1993 issue of The Source.
PHASE 2 furthered the culture by making logos for Cash Crew and Tuff City Records, as well as the poster for 1982's New York City Rap Tour. The latter was a pivotal moment in Hip-Hop that saw the Rock Steady Crew, the Dark and Lovely Double Dutch Girls, Grandmixer DXT, Afrika Bambaataa, FAB 5 FREDDY, the Infinity Rappers, FUTURA, DONDI, RAMMELLZEE, TAKE 1, and Little Norman travel to England and France, providing the culture its first international exposure.
"PHASE 2 comes along," FAB 5 FREDDY says. "We rhyme. We graffiti. We break dance. All this shit is going on stage simultaneously like a fucking wild free-for-all. We don't think anybody is going to understand it — because nobody has heard anything about rap — but fucking people love it. That plants the seeds of Hip-Hop in France, which has remained the second biggest market to this day."
By 1981 PHASE was using multiple styles and estimated that he was producing 75 percent of all the Hip-Hop flyers in circulation in New York City at the time.
"He said the feeling of [making a flyer] was like you're almost an addict to drugs," says Pete Nice, one third of the Hip-Hop group 3rd Bass.
"One guy said that he would go to his crib, see his mom, and he would be working on a flyer. They'd go out to play ball in the park and come back and eight hours later he'd still be there working on the flyers."