"I can remember Kurtis Blow coming to my middle school."
Khujo Goodie reflects on a moment that shaped his Hip-Hop future. A young Willie Knighton heard Buffy "The Human Beatbox" of the Fat Boys over the intercom at Southwest Middle School. "When I was in 7th grade, Kurtis Blow, The Fat Boys, Whodini and New Edition came to my middle school in Atlanta, GA." Seeing these rap stars in-person at his school would have a profound effect on Willie, who by the time he was in high school, would become something of a big man on campus. It was his enviable rep around school that landed him on Robert Barnett's radar.
"I met Khujo Goodie my ninth grade year at Mays High School," shares Barnett, aka T-Mo Goodie. "I'mma be honest, all the girls liked Khujo! He was big and muscular, real strong – all the girls were like 'Oooh!' and I was like what Is it about this dude? I wanted to meet this joker to see what he's all about. I found out how cool Khujo was."
These two high school friends who connected in the late 1980s would go on to form the foundation of one of the South's most legendary rap acts; but long before that, they were bonded by a love of music and a belief in each other.
"He asked me one day, 'Hey, man--you'll give me a ride home, T?'" T-Mo remembers. "And I said yeah. I gave him a ride home, we talked, we laughed. The next day, we went out to some parties together, and started kicking it." T-Mo had never rapped before, but he had aspirations on becoming a deejay, and he'd become friends with Atlanta legend DJ Toomp. When he got the bug to start rhyming, he thought about his friend.
"Khujo was recording with a group called 411," T explains. "I said 'let's do a song together.' We got in there and did a song together and it came out sounding real good. We took a Burning Spear sample and we put it together. One of the lyrics on that record was me saying 'Not from Manhattan/Cuz Atlanta's where it's happening.'" 
T-Mo was adamant about bigging up his hometown. Now pursuing a degree in science at Morris Brown College, he'd gotten tired of transplants from New York and Chicago and Detroit dismissing Atlanta as "slow" and "country." But in trying to get a Hip-Hop career off the ground, Atlanta was still a hard place to be heard.
"It was rough in Atlanta -- especially with no major record label in Atlanta, at that time," says Khujo. "LaFace wasn't on deck at that time. It was muhfuckas going for they self. Ichiban Records was on deck. You had people like Mo-Joe, The Hard Boys, Kilo Ali, Damage, Success-N-Effect, people like Ghetto Mafia. These brothers was doing the damn thing way before a major label ever came. We were looking at those brothers. But radio was still [mostly[ playing music from the East Coast or the West Coast. Maybe playing some Luke – strip club music, we'd call it."
It was in that environment that Mo and 'Jo decided to push forward as a rap duo. They'd called themselves "The Goodie Mob," but once they landed management, the name was a problem.
"Me and Khujo recorded like 15-16 songs under the name Goodie Mob," T-Mo clarifies. "We were Goodie Mob first." But their new management decided to change the pair's name to something that seemed easier to understand: The Lumberjacks.
T-Mo and Khujo performed their tracks all over Atlanta. T-Mo's uncle would play some songs at his club Charles Disco; and they booked some dates at The Warehouse. All the while, their focus was keeping each other motivated and their friendship fueled their drive.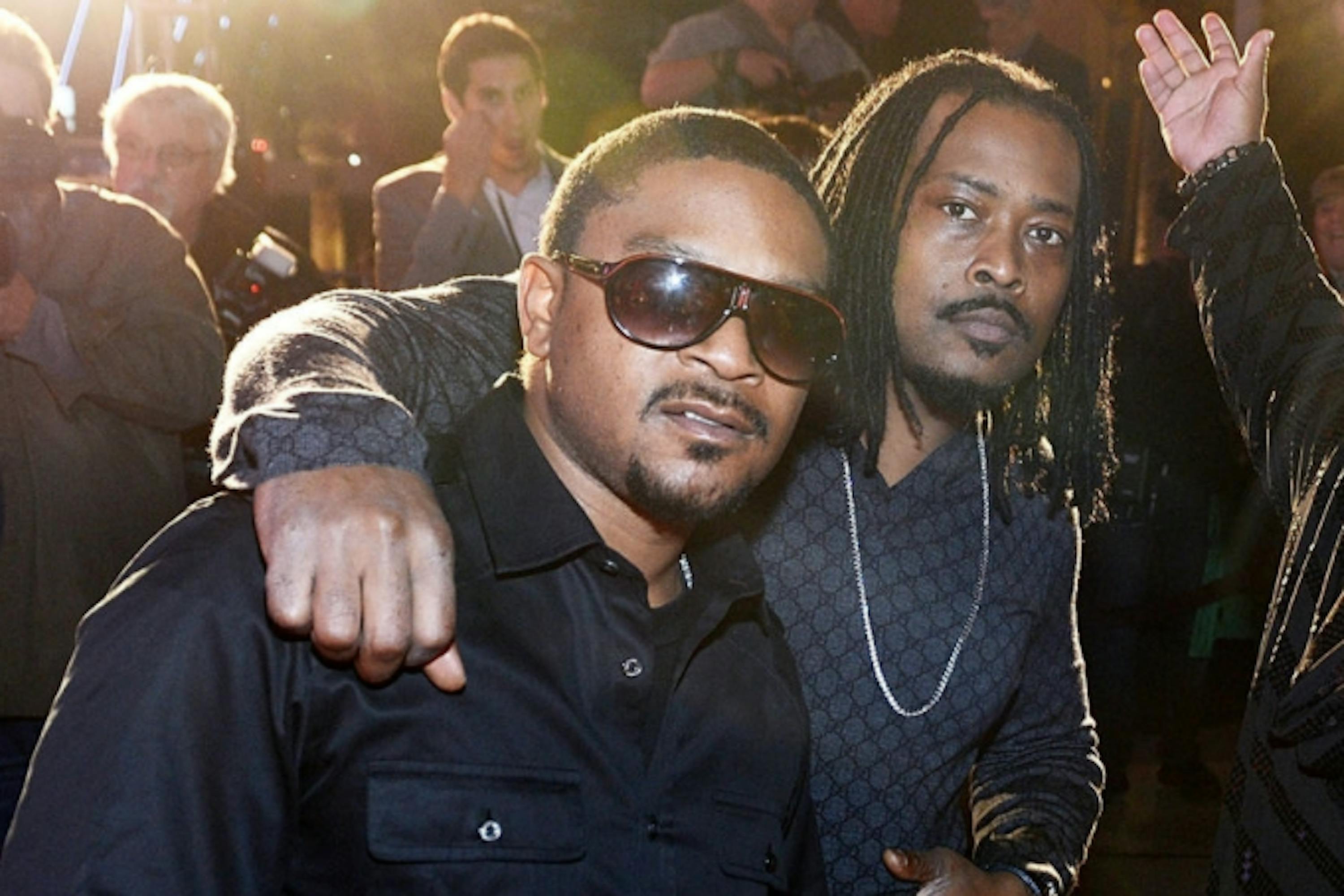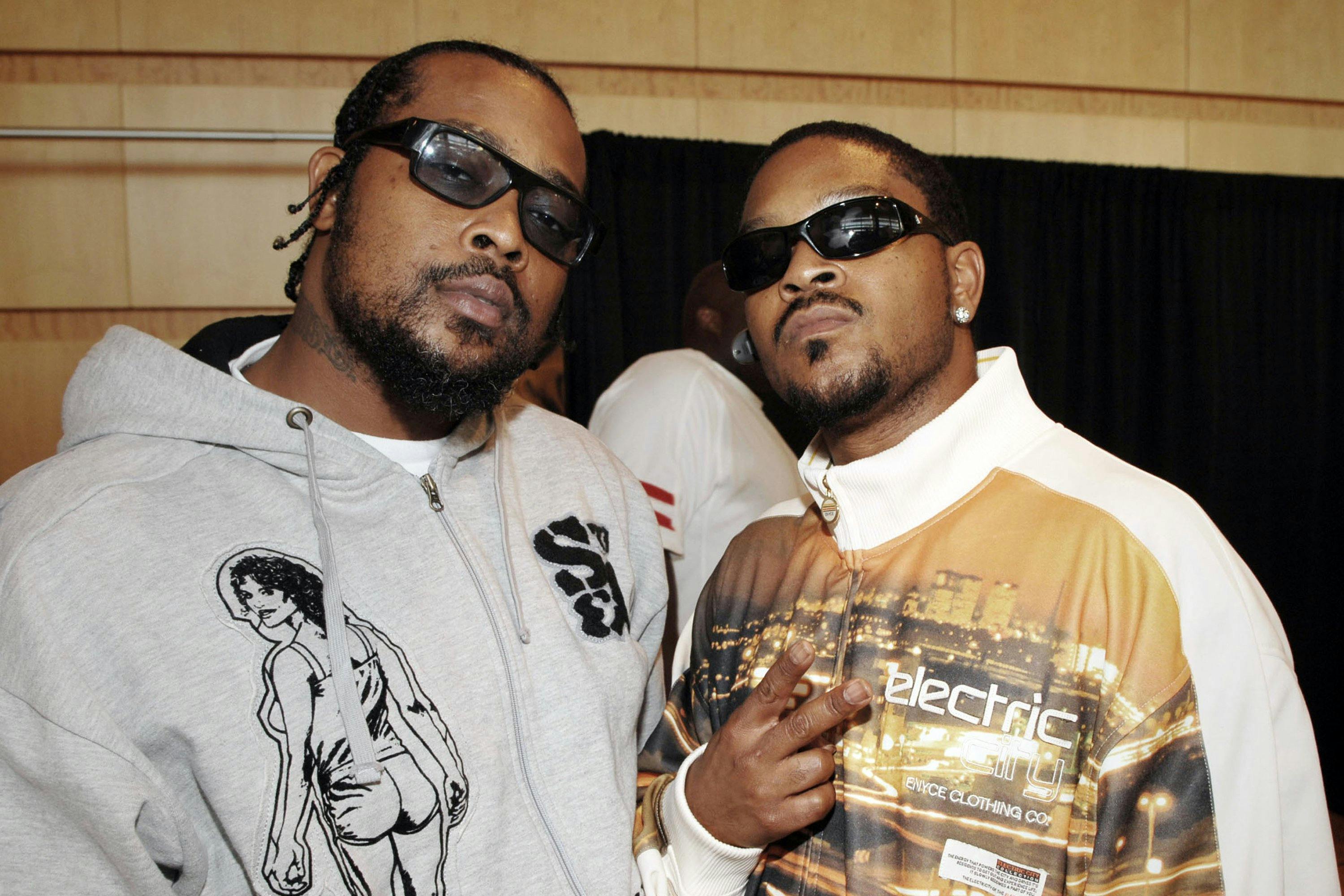 Photo by Denise Truscello/WireImage/Photo by Rick Diamond/WireImage
"We were always tight," T-Mo says with a laugh. "He'd come to my dorm room, we'd get drunk all night."
"We'd kick folks' ass together!"
But it was the launch of LaFace that changed everything. Once Antonio "L.A." Reid and Kenneth "Babyface" Edmonds decided to launch their label in Atlanta, it put the industry squarely in these two rappers' backyard. The Lumberjacks wound perform for LaFace in the early 1990s to no avail. But when they linked with a hot new production team named Organized Noize, (who'd helmed a remix for LaFace stars TLC), that things shifted quickly. 
T-Mo and Khujo re-embraced their original name, and started hanging at Organized Noize's basement studio, known as The Dungeon. It was there that they became familiar with fellow aspiring rappers: two teenagers who called themselves OutKast; and laid-back-but-gritty rhymer named Big Gipp; and a rapper/singer called Cee-Lo. The Dungeon Family's bonds were forged, and soon, Goodie Mob was expanded to include Cee-Lo and Gipp.  
And it all started with these two friends who met at Mays way back in the day. 
"He done saved my ass before," T-Mo says of Khujo, grinning broadly as he thinks back to the incident. "We were in a big fight [at] Mayor [Shirley] Franklin's house. Her daughters used to throw big parties at the end of the year, [and] these jokers were jumping on me!
"Me and 'Jo out there, we fighting for our life! This girl got a 10-foot, 12-foot fence, and Khujo jumped on top of the fence and dove down on everybody! Saved the day for me. That's my dog!"
Khujo chuckles at his old friend's stories ("One thing about T, he has a good memory!") and his own recollections are more somber, but no less heartfelt. For Khujo, it was all the foundation to the men they've become. 
"We definitely play off of each other, man. We definitely had humble beginnings," he says thoughtfully. "But we needed those humble beginnings."