Looking back on it, Joe is surprised as well, admitting that "Flow Joe"/Fat Joe The Gangsta couldn't imagine making something like "We Takin' Over" or "Feelin' So Good" with Jennifer Lopez.
"No way in the world, no way in the world," he says. 
But by the time Joe got to his third album, Don Cartagena, he saw that Hip-Hop's audience was expanding, as well as the other regions contributing to the sound, style, and culture. Joe wanted to expand as well. He also wanted to find a way towards financial security, and out of the projects. He was hanging out with LL COOL J when a lightbulb went off.
"I went to hang out with him in his house in Long Island," Joe recalls. It was a mansion, and I was still in the hood even though I had 'Flow Joe' I was like, 'oh my god, this is incredible, how did you get this?" And the man told me, 'Easy, we do the same thing. You just rap for the streets and underground, and I rap for the ladies and the commercial, and that's how I get money like that.' And that's what sparked the lightbulb in my head."
Joe also credits conversations with the producer L.E.S. Joe, hanging out with Biggie, and meeting Big Pun as the catalysts for pushing him to try new things - even if it felt uncomfortable or in contrast to his D.I.T.C. roots.
"I had been there through Puffy blowing up Biggie," Joe says about this progression. "Biggie was my man. I saw everything he did with Biggie. Biggie would've been an underground rapper if it wasn't for Puffy's history in R&B. Puffy taught him how to flip 'Juicy' and 'One More Chance.' I saw that with him."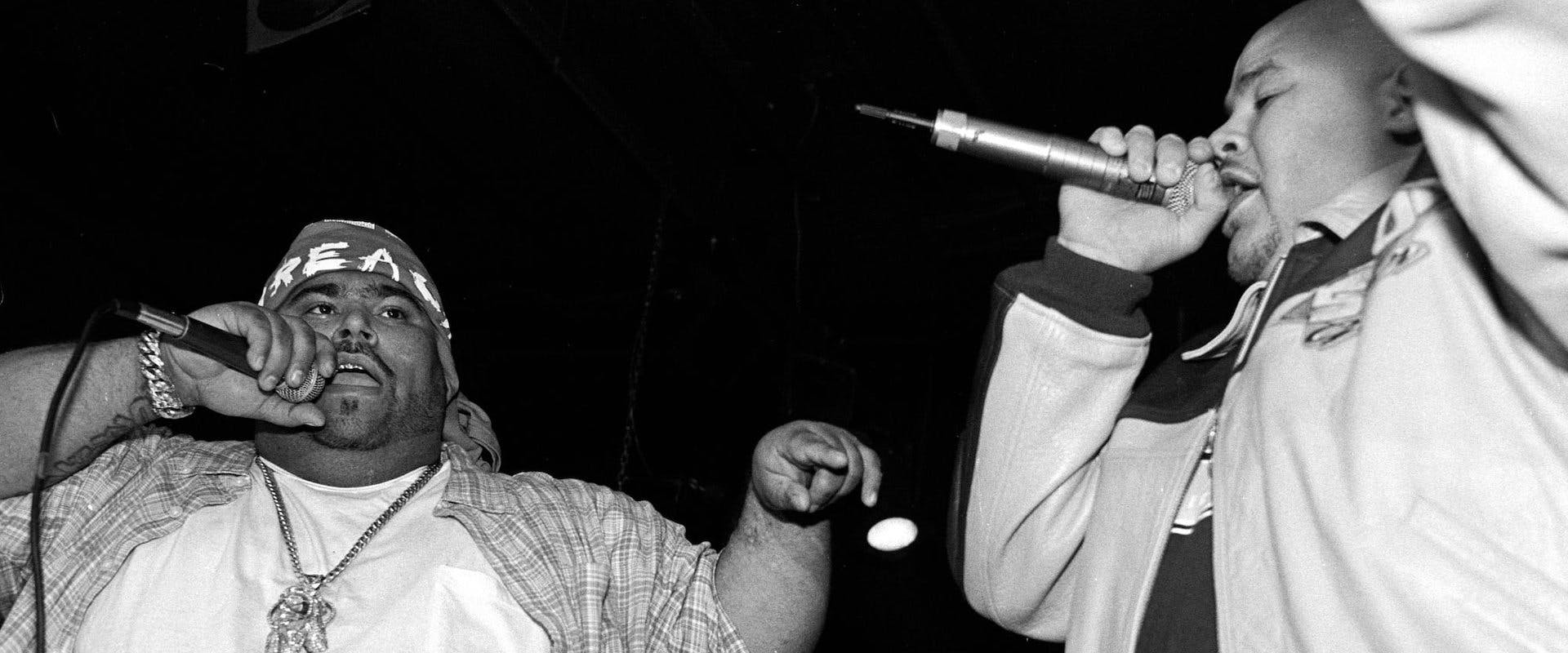 Joe took these observations and applied them to his work with his own protégé, Big Pun. He convinced Pun to make more mainstream songs, and in exchange, improved his own emcee toolbox.  "When I discovered Big Pun, I knew he was a lyrical beast, I didn't want him to just be an underground guy. So, I convinced him to make records like that and in exchange, I was almost in Big Pun's school, where he taught me to make those songs. We'd be like, 'right here we're gonna talk about a girl... right here we're gonna talk about what car we're in. We're gonna talk about guys getting high... he taught me how to make this music. I never would've thought I'd make music like that. I was so underground. I come from Diggin' In The Crates. I come from Diamond D, Showbiz, Big L, OC, Buckwild; it's two different worlds."
Joe says he would've been happy to remain underground and let Big Pun have the spotlight, but then Pun unexpectedly died of a heart attack on February 7th, 2000. "I would've never been Fat Joe like 'Lean Back', 'All The Way Up,' 'What's Luv.' I would've remained underground cause Pun was meant to be a star. Pun died, that's why I took over. Pun was the franchise. Pun was the Greek Freak, the Kobe Bryant," he says. "I would've stood on the DITC, 'Don Cartagena' type underground hits. It wasn't 'til he died and we had tasted—we had grown a palette for money and expensive shit that made me say, 'Holy shit, now I gotta do songs like 'We Thuggin,' 'What's Luv.'"
DJ EFN, a Miami-based DJ and co-host of Drink Champs with N.O.R.E., has known Joe since the 90s; when Joe started to venture down to a pre-gentrified Wynwood District and connect with Miami's Zulu Nation faction and other early figures like DJ Raw. EFN has seen Joe's impact and influence grow over the years, and when it was time to create pilot episodes of Drink Champs to show proof of concept to CBS Radio, it was an easy decision to turn to Joey Crack, one of Hip-Hop's best storytellers. It's something that Joe talked about during that debut episode that has stuck with EFN ever since. 
"He talked a lot about how he's just a student of the game and it's evident in everything that Joe does," EFN tells me over Zoom. "This is what I love about Joe - he's a student of the industry and that's what a lot of people don't get - and he's also a student of the culture. Which are two different things. There's a happy medium for Joe with both, but he's a businessman and he studies the music industry, its trends. And I could tell people, just look at what Joe did in terms of a lot of New York artists coming in and working with southern artists as the southern tide moved and took over everything. He was at the forefront of that. And he had been coming to Miami and working with people since the 90's... That's just a part of his business mind, but also him being a student of the culture. He loves Hip-Hop so much, but he also loves the grind, the industry grind and when he marries those two things, there's no stopping him." 
It's easy to overlook Joe's deep deep roots when they are overshadowed by his big pop hits. It is also normal and expected for artists to forever leave the underground once they reach such a musical mountain top. The rarity of Fat Joe is that he went from the down-by-law authenticity of DITC to a household hit-maker and still shows up without question to the DITC reunion album, or has a true fan moment interviewing Big Daddy Kane on Instagram. Where some artists lose their underground respect as they climb the charts, or experience anxiety in growing an audience, Joe has experienced neither.
"I'm the realest, I'm the most authentic. The thing about me is, no matter how big I got, I could've made a record like 'What's Luv' or 'Lean Back,' number one in the country, I would show up to the Pharoahe Monch album release party and start doing songs like 'My Lifestyle' and 'I Shot Ya,' and 'Flow Joe,' heads would go crazy because even though we was platinum and double-platinum, this motherfucker will come to the biggest hole in the wall Bowery street and do nothing but underground songs, won't touch 'Lean Back,' just underground songs and motherfuckers is going crazy in there, my DITC shit, they're like, 'we can't front on Joe.'" 
"These [different records] are just examples of who he is," says Bun B, who has known Joe for over 15 years, and also gave me the idea for this article during our own conversation last October in Chicago. "In both instances he's remaining true to who he is. He was always that dude that was getting money in the street. He's not making up any of that. He was always that dude that was about spitting raw bars. He's not making that up."