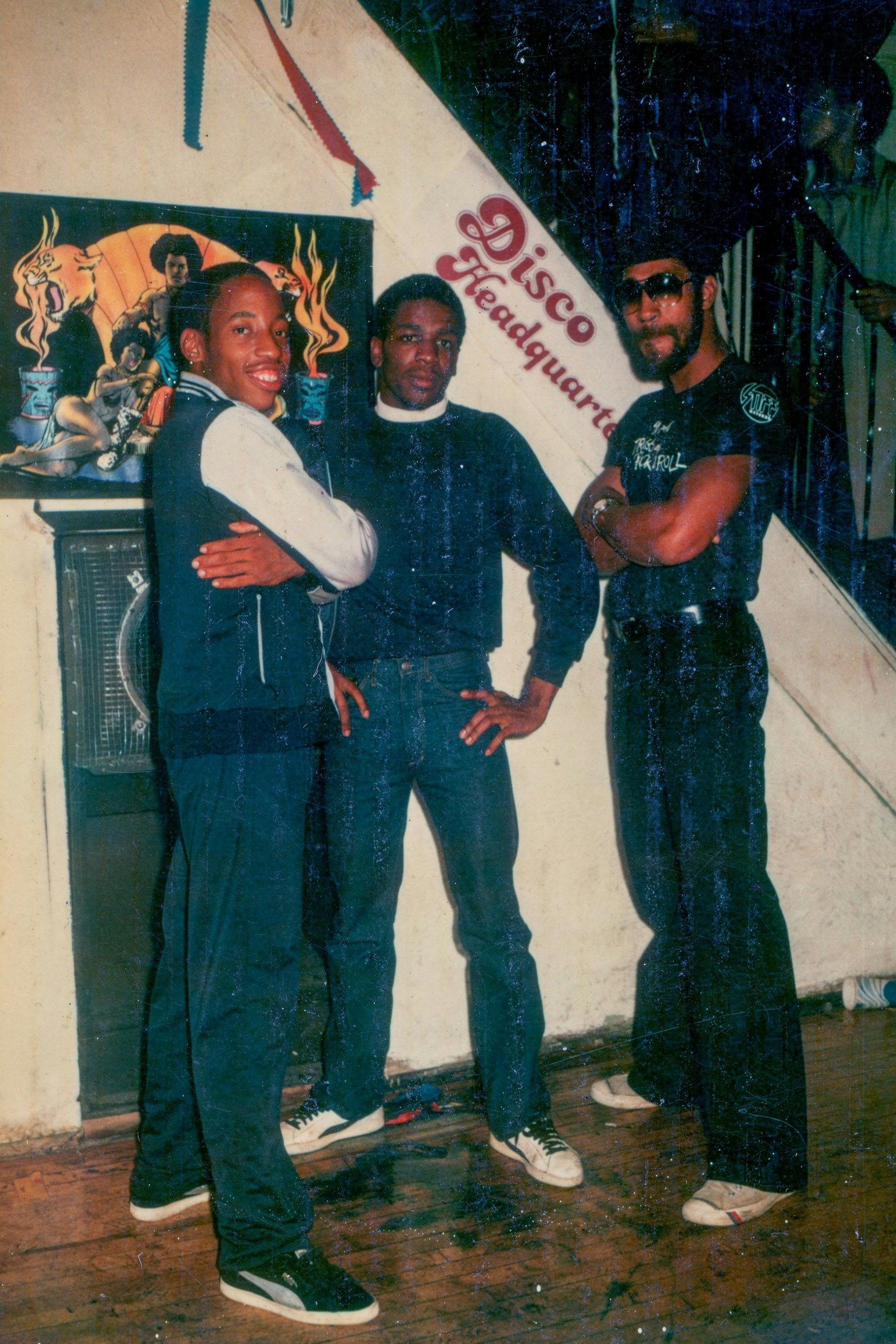 KH: It was Cousin Brucie and Wolfman Jack. "Judy In Disguise" and all that stuff. I would say, music wasn't about the Black thing — it's a we thing.
CC: Yeah. You like the music, you play it. When we moved in the neighborhood, it wasn't changing yet. You didn't have the white flight. There were a lot of Italians and Jewish people in the building. Thelma was a tenant in the building. She was the last white person that said, "I'm not leaving." And then finally her children said, "Mom, you can't live here anymore because we're not going to come visit you anymore."
KH: The graffiti started with a group called the EX-VANDALS; SUPER KOOL 223 and Lonnie (PHASE 2). That's my man. We hid down in the train yards with markers. I couldn't go too far away because my father was a very disciplining person. But we did hit the No. 4 train and the Third Avenue El in the Bronx before it got knocked down. [I called PHASE 2} "Mysterio." He's a cool dude. And after a while, he designed some flyers for me. Then the flyers got abstract. They were crazy. I told him, "I've got to see the information on my flyer."
CC: I had my tag name PEP 1. The reason why I was PEP 1 was because somebody might take your name. So PEP 1 meant you're the first one. I wrote it, but I wasn't crazy on the trains with paint and things like that. I used to write it in the neighborhood — or down the street we would do it with the spray paint.
KH: I'd ride the train next to people who pointed at the graffiti and asked , "Who's the guy doing that?" And then I'd be laughing thinking, "I'm right beside you."
CC: The whole thing about the Sedgwick Avenue party is, you want to go back to school with something nice, different, and fresh — and you're the only one that had it. Alexander's was the department store. I put my money together. Then I thought, "How am I going to increase my money to turn it over, to make some more money? That's when I had the concept and the idea to do the Back to School Party. It wasn't a birthday party, it was back to school. You' had to give it a good reason and a theme. I thought, "How am I going to promote this party? How am I going to make this happen?" So we had the recreation room and it was $25 dollars to rent the room.
KH: That's what it was there for.
CC: Or anniversary and christenings. That's what it's there for. And you had two bathrooms in there.
KH: Can't beat that.
CC: So I'm like, "Oh, two bathrooms? One could be for the boys, one could be for the girls."
KH: And if got a little hot. you could go outside a bit because it's closed off. You got to hang out in the hallway and down the block.
CC: If you wanted to leave, you had to jump up a wall and take the steps to get there. I'm thinking, "Once people came to the party, if they needed to go buy something, they're going to go all the way to the store, and they're not coming back. How do I keep them there?" So we had to sell soda, and we had to sell beer. I couldn't go to the supermarket and buy it, so we had to get it wholesale. So I'm thinking of all of that. Now, I have to put the whole motion in play. I went to the management and they said it's $25. But he said, "You're too young to sign the papers. You got to get your parents to do it." I was a daddy's girl, so that was no problem. He took the form to my father and he was pleased to know that I wanted to do something like that. It was my money, so he signed it. We got a date. I spoke to Herc. I said, "Herc, you have all this equipment in your room. You're going to be the DJ." He was like, "Okay." So I now I didn't have to pay my DJ and I'm cutting my costs. He told his friends Coke, Timmy Tim, and Clark Kent what was going to be happening.