The Bronx superproducer/rapper just dropped his new album, The Rear View, which features Posdnous of De La Soul, Westside Gunn of Griselda, Ashtin Martin, Stacy Epps and KP. The project took about two months to record between New York, L.A., and Atlanta, with engineers Believe and Amond Jackson; it arrives just as his classic debut album Stunts, Blunts and Hip-Hop turns 30. With decades of history on his resume, and as inspired and vital as ever when it comes to this art, Diamond D is in a very good musical place. He spoke to ROCK THE BELLS about how he got here; taking time to show love to those artists who inspired him.
"My influences on production were Marley Marl, of course, the great—[and] the 45 King," says D. "Jazzy Jay—he's the one who put me on and taught me production; and Prince Paul—those were my heroes. I was a DJ, but I listened to all of their productions. At the time, I didn't own a sampler. But those were the legends I looked up to."
One thing about Diamond D that's evident in any conversation, he's a fan of many of his peers. In the hyper-competitive music industry, some mute their praise of their contemporaries. But D is secure in his greatness, and his respect he gives is parallel to the respect he gets, across-the-board. His love started as a deejay, and he believes two turntables to be the foundation. And, as he points out, it's evident in the trajectories of some of our most celebrated producers.
"I think that all prolific producers were once DJs. Dr. Dre, Just Blaze, Timbaland, myself," he says. "I just think the art of timing, blending in—it's similar to production. But with producing, you don't have two turntables. You learn how to stack tracks on top of each other, but it's the same principle: timing and blending. It all ties in. [Many] producers were all DJs. So that's an important aspect of it."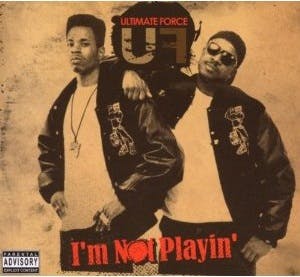 "I was in a group called the Ultimate Force. And we were signed to Strong City Records/MCA. I was the deejay in the group. Also around that time, I was producing an artist named Lord Finesse. His first album, Funky Technician, I was producing that along with DJ Premier and Showbiz. That was around the time that I made the transition to become a producer from a deejay. It was a natural progression. Once you learn the art of production, the art of sequencing, all of that comes into play.
"[As far as] me wanting to be an emcee," D continues. "I was around Lord Finesse a lot, and I was also around Grand Puba Maxwell, who was signed to Strong City Records,...prior to Brand Nubian. He was in a group called The Masters Of Ceremony. We would all be in the studio. Just being around...those two in particular, Lord Finesse and Grand Puba, made me wanna pick up the pen myself."