As fate would have it, EPMD was going to be making an appearance at a club in Richmond which was about 25 miles away from Virginia State's campus in Petersburg. The group seized their opportunity at the talent show and performed "Klap Ya Handz" in front of them. EPMD liked what they heard, and said if they had other material of the same quality, they believed they could get them a record deal. Lynch thought it was all lip service.
"I was like, 'Skoob, they're not calling us. They're not.' I was like,'Yeah, all right. Whatever Skoob,'" Lynch said.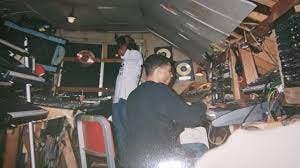 The goal was to create a five song demo. The production duo, Solid Scheme, didn't even own a sampler yet. With $1,500 in cash from Drayz' father, they set off to record at Firehouse Studios in Brooklyn where Gang Starr recorded their first album, and where Wu-Tang would go to record "Protect Ya' Neck."
The space itself was a 1,000 square foot, two-bedroom loft, with a living room for live drums connected to the kitchen, and a walk-in closet for vocals. From these inaugural sessions, they ultimately produced "They Want EFX" which came from a beat co-produced by fellow Virginia State classmates, Marcus Logan and Kevin Byrdsong, who weaponized James Brown's "The Big Payback" and ESG's "UFO." Other songs ike "Mic Checka", "Looseys" and "Jussummen" soon followed. The latter utilized a guitar part played by the engineer of the session.
"When they started doing vocals it was fantastic, 'cause it wasn't easy for them to do the delivery in the beginning," recalled Firehouse engineer, Yoram Vazan. "They had to get used to that style – there was a lot of punches– but once they did it, we realized this was going to be big. I thought it was very entertaining. It was like American pop culture being put out – from television to commercials to life on the street – just attacking you and bombarding you with words! Every phrase was a different picture in your head of American lifestyle: Sausages and TV commercials! It was crazy. And like I said, they wanted to get it on tape so perfect, so we did it a bunch of times."