Occurring at a time when the spotlight on the Georgia state capital was growing, Khujo remembers just how much it mattered to tell the truth about what was happening in the streets. Even as the powers-that-be were looking to revamp the ATL's image. 
"When it was time to [show] what was going in our city, you had this other thing going on with the Olympics and the gentrification of a city," Khujo explains. "The South is a hub. But you had people who moved away to find work up North. But they family still had ties in the South. At one point, we all related. But for us to be able to put those landmarks in the music..and be able to recognize and document in the music, it was more than just rap."
The reception to southernplayalistic... was overwhelmingly positive.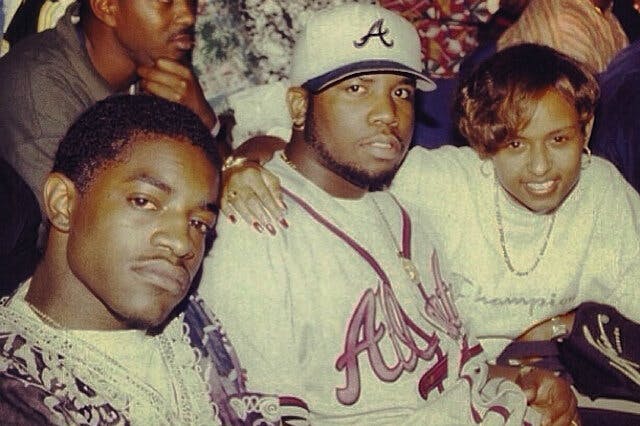 Critics raved about Dre and Big Boi's uniquely ATL lyricism, as well as the rich musicality of Organized Noize. The album put Atlanta rap on the national map, but with it came detractors. The group winning Best New Artist at the 1995 SOURCE Awards has become immortalized in Hip-Hop's lore. On a night drenched in East vs West, borough hostilities and regional animosity, these two country boys from Georgia took the stage after an unenthusiastic intro from Salt-N-Pepa. Amidst the boos, Andre had the audacity to declare "the South got something to say," words that would prove prophetic in terms of both OutKast's career and the surge in rap stars from below the Mason-Dixon.
Big Boi recalled that night years later and said they were never intimidated by the moment.
"It was thick in there. It was a lotta beef goin' on, you know. You just thought it would have been a stabbing or a shoot-out at any time," Big Boi said during a recent 10 Questions with Kyle Brandt interview. "We were just right there in the middle of it like, 'I wish a motherfucker would.' Yep. Pretty much."
And contrary to popular belief, 'Kast had NYC love—even back then.
"We had people up there that took care of us," Big added in that interview. "And you know, shit—we got hands, too!"