Eric B. & Rakim emerged into Hip-Hop's mid-1980s rise as a uniquely revolutionary force. The duo of Eric Barrier and Rakim Allah (born William Griffin) would famously recalibrate the sound and approach of Hip-Hop with their uber-classic debut Paid In Full. After the album's release in the summer of 1987, Rakim gave an interview with SPIN that was as close as the mysterious new rhymer from Long Island would typically get to in-depth with media; he offered a breakdown of his unique and instantly-groundbreaking approach to the art of rhyme-writing.
"What I do, I like to have the track first, the music," the young rapper continued. "So I come downstairs where my equipment is, I sit down, turn all the lights off, and I get this one spotlight that I put on the paper. So that's where I concentrate. Ain't nothin' else goin' on but the paper. Then I just turn the music on for a while, listen to it, get into it, and that's where I get the style from."
The skilled rapper and his turntablist partner came together, as so many potent combinations do, almost via happenstance. Eric B. was making a name for himself as a radio DJ and making a major name for himself on Long Island. But he wanted to pair up with a charismatic emcee, and it was likely going to be a hungry young rhymer named Freddie Foxxx.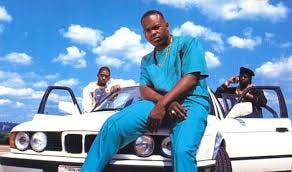 "I started working for WBLS, for the radio station," Eric B. told UNKUT. "I got my first street team and the first mobile DJ to go out and play at different events for the radio station. That's how I really got started, professionally. I used to do the same thing and be around the way in the parks and they'd let me play music, but when I really took the show on the road was when I worked for the radio station and started playing playing in different cities and different neighborhoods. That's how I met Rakim – playing in Long Island."
When Foxxx didn't show up for his meeting with Eric B., the DJ was forced to look for an alternative. That's when recommended a young rapper with a distinctly slow flow. Rakim had been into jazz as a youngster, and found himself drawn to Islam as a teen. He soon converted and joined the Nation of Gods and Earths; around the same time, he won a freestyle rap competition at his high school. Soon, his love of jazz musicians like Charlie Parker, Dexter Gordon and John Coltrane found its way into his approach to writing rhymes. But rapping was of secondary interest to the teenager from Wyandanch.
Until he met this big guy who was apparently an important DJ.
"This is at the point where I was about to go to college," Rakim recalled to COMPLEX in 2013. "This cat on my football team...brought Eric B. to the crib. They was like, 'Yo, this is Eric B. He's looking for an emcee.' You know, me being an arrogant dude, I'm sitting there looking at Eric B. like, 'Yo Al man, I'm about to go to college and play ball. Why you bringing this dude over? I told you don't be bringing nobody to the crib, man.'"