"I think the entire album had a real strong revolutionary jazz feel to it," Myka said in 2019. "The vocals for the track itself were a little rushed but it ended up being great and memorable. There's different time signatures and all that. And I personally think some of the vocals sounded like what some trap flows are today."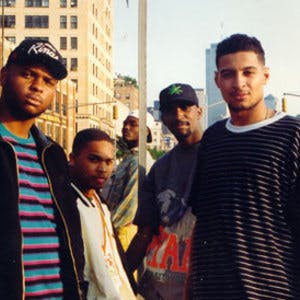 The influence of the Freestyle Fellowship looms large over indie rap and the Los Angeles Hip-Hop scene. They were often victims of Hip-Hop media that didn't quite know where to put them, that stereotyped them as boho granola rappers. The group reunited in the 2010s, and they've always been clear that they refuse to be boxed in.
"Then there's the other end where you might think alright these freestylers don't want the pay, or these underground artists don't want to go mainstream," Myka 9 said in 2009. "I've even heard some people say 'they're afraid of making money.' I beg to differ. It's that once you've been an independent artist in the undercurrent of style and expression some artists, they can say if I battled so and so in the mainstream I'd serve him, but then it's like you feel that confident, but do you feel confident enough about putting together some songs and approaching one of these major labels, or one of these major label representatives, or managers, or lawyers, and seeing how far you can really go? Only a few of us have been able to do that."
Ava DuVernay's This Is The Life documentary celebrated the legacy of the Good Life Cafe and Freestyle Fellowship; and there's an entire generation that revers what Innercity Griots and Freestyle Fellowship brought to this music.
"For myself and many other people, Freestyle Fellowship was the template for underground hip hop," said rapper/producer Daddy Kev in 2011. "Low End Theory is inspired by the pure creative spirit of Fellowship and [Good Life successor] Project Blowed. When I was on tour with them [in the early '00s], the hot underground rapper in each city would turn up at their shows and basically just bow down."