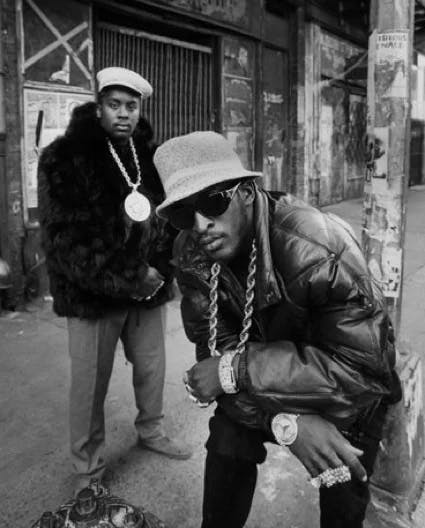 The success of Paid In Full didn't just confirm Eric B. & Rakim's reputation and critical standing, it set the stage for the duo to make the leap from small 4th & B'way label to MCA and its subsidiary Uni Records. Ra and Eric went into the studio to record their sophomore album at Power Play Records in New York City, and the larger budget and slicker recording digs would pay dividends on their new project. So would the contributions of Rakim's multi-instrumentalist brother, Stevie Griffin, who would contribute throughout what would become Follow The Leader.
The music of John Coltrane and Thelonious Monk were steady inspirations for Rakim's lyricism. And jazz would provide a touchstone for the spirit and approach Eric B. & Rakim took on the album.
"I'm from Queens, so I'm automatically a Louis Armstrong guy," Eric B. would tell Billboard in 2019. "And the way he played and the stuff he did was just groundbreaking. Cab Calloway was big for me, too. Actually, I lived down the block from Louis Armstrong in East Elmhurst, Queens. Our neighborhood was great. It was like watching dinosaurs walk among us. You'll see Frankie Crocker, you'll see Willie Mays and Muhammad Ali walking around. Thinking about it now, it's just amazing to think these were the guys who were just the neighborhood cats. As kids, we'd play touch football with Muhammad Ali. Actually, the house where they firebombed Malcolm X was right by me. And Ali used to be at that house and we'd play over there all the time. That house still stands to this day. Tom Seaver lived near me as well, and he was one of the nicest guys you'd ever wanna meet. I remember his sister lived on Ditmars Blvd. at 94th Street. We used to go to that house every day and ring the doorbell just to see Tom Seaver."
Throughout their second album, Rakim's evolution as an emcee is evident. His Trane-like dexterity makes for expressively nimble rhymes, as he pushes past the measured lyricism of his debut to something more free-flowing and cerebral. And his commitment to his status as a master of his craft was evident, even at this relatively early point in his career. Throughout late 1987 and into 1988, a generation of emcees had emerged alongside Rakim, vying for crown as best in the game. Alongside the already established Bronx firebrand KRS-One, Brooklyn's Big Daddy Kane and Kool G Rap out of Queens had become breakout stars of Marley Marl's Juice Crew; and Long Island duo EPMD had broken big with early singles and their debut album Strictly Business. Some had commented that their style owed a lot to Rakim, and he was starting to notice his influence—and his competition.
On EPMD's "You're A Customer," Parrish Smith famously rapped "you smack me, and I'll smack you back," which led to widespread speculation amongst their Long Island base that the duo was responding to fellow L.I. product Rakim's famous line "You can get a smack for this," from Eric B. & Rakim's "I Ain't No Joke." Rakim responded with a line in his new song "Follow The Leader."