Thomas Callaway has always gravitated to the past.
That's not to say he lives there; quite the contrary, as multi-faceted rapper/singer/songwriter Cee-Lo Green, he's one of the most forward-pushing artists in contemporary music. He's one-fourth of the legendary Goodie Mob; he's one half of the genre-bending Gnarls Barkley; and he's always wholly himself. That raspy-voiced iconoclast who grew up "right around the corner from Benjamin Mays" defies easy categorization, but he doesn't hesitate to embrace his status as an "old soul." For him, the past is a source of inspiration and something to revere.
"I'm a really old soul, man," Cee-Lo tells ROCK THE BELLS with a laugh. "I don't even really know how I manage. I like old music -- I can't help it." 
His voice has always had the richness of the blues and soul that echoed the spirit of years gone by. As a young man, Thomas got into the sort of street antics that would be all-too-common for his generation, but his love of music would soon prove his salvation. Cee-Lo has never shied away from the reality of his would-be thug years, but young Thomas Callaway was always drawn to creativity. Expression came naturally, and he knew he wanted to nurture that expression; and in his hometown of Atlanta, a nascent industry was slowly emerging. 
"All we had at that time were the talent shows," he recalls. "A year or two prior [to] Jack The Rapper and How Can I Be Down? Ichiban [Records] was the one local label here. Then you had So So Def [and] LaFace."
Having dropped out of high school, Cee-Lo was trying to find his way with various rap crews and local management reps, as his future bandmates were carving out names of their own. "Khujo and T-Mo were doing the local talent show circuit. The Goodie Mob was a street crew originally and something that Khujo was a part of. [Big] Gipp and Cool Breeze were in a group called East Point Chain Gang."
Those various emcees were coming together under the banner of The Dungeon Family. The crew gathered at the basement studio in Rico Wade's house to create music. With Wade and his production co-horts Organized Noize at the helm, the collective was beginning to take real shape and garner real interest. Into that established set came teenage Cee-Lo. 
"And I was just me," he says with a grin. "I came over to the Dungeon with my thang. We were introduced by way of mutual friends at different times. Khujo, T and Gipp had always been part of the Dungeon, informally. I was new, but me and T-Mo grew up together. I was an underclassman, so when they were graduating, I was coming in. They were seniors and I was a freshman."
And one regular at The Dungeon was a childhood friend of Cee-Lo's. 
"Me and Andre 3000 went to elementary school together, we'd been friends for a mighty long time," he explains. "[But] I hadn't seen Dre since we were children. I didn't bump into Dre again until we were in the 11th grade. we were at an alternative high school called Frank McLarin."  
Both of them were at McLarin to pursue their GEDs, but their reconnection led them in a different direction. 
"We were talking about music," Cee-Lo shares. "He was rapping and I was rapping. I was almost a part of OutKast. We talked about it. The GA Style was my original crew and I introduced Dre and Big Boi to them. But Dre was like 'I found these other producers...and they so dope!'"
Those other producers were Organized Noize. A friend of Cee-Lo's took him to the Dungeon and he wound up singing for Sleepy Brown. "Rico Wade walks in the door with Andre and Big," he remembers. Weeks after that initial meeting, Cee-Lo once again found himself at The Dungeon and reconnected with all of the principals. He soon officially became part of the Dungeon Family, and with Andre and Big Boi (as OutKast) landing a deal with LaFace Records, everyone set to work on crafting OutKast's debut album. 
Cee-Lo would make his first recorded appearance on the album, rapping a verse on the track "Git Up, Git Out," a song that he'd written in school. 
With the success of OutKast's album, LaFace was eager for more from the Dungeon Family. The four emcees who would become Goodie Mob were suddenly thrust together.
"We were featured separately and we weren't formally 'Goodie Mob' at that point," Cee-Lo says of their work on OutKast's debut. "We weren't a group yet. But it was due to the practicality of Rico Wade; trying to seize the moment and get us all out simultaneously." The decision was made to bring Cee-Lo, Gipp, T-Mo and Khujo together. 
"Goodie Mob's Soul Food, essentially, was a compilation album," he says. "But we ended up stumbling upon our own synergy and formula that really worked fo rus -- our own niche, as a group. But it was completely informal to begin with. But it was comfortable because we all knew each other."
Cee-Lo was closer in age to OutKast, but his presence fit perfectly with Goodie Mob. The slight age difference didn't matter. 
"I was nineteen," Cee-Lo says of Goodie Mob's first album. "I'm the youngest in the group. I'm about three years younger than everybody else."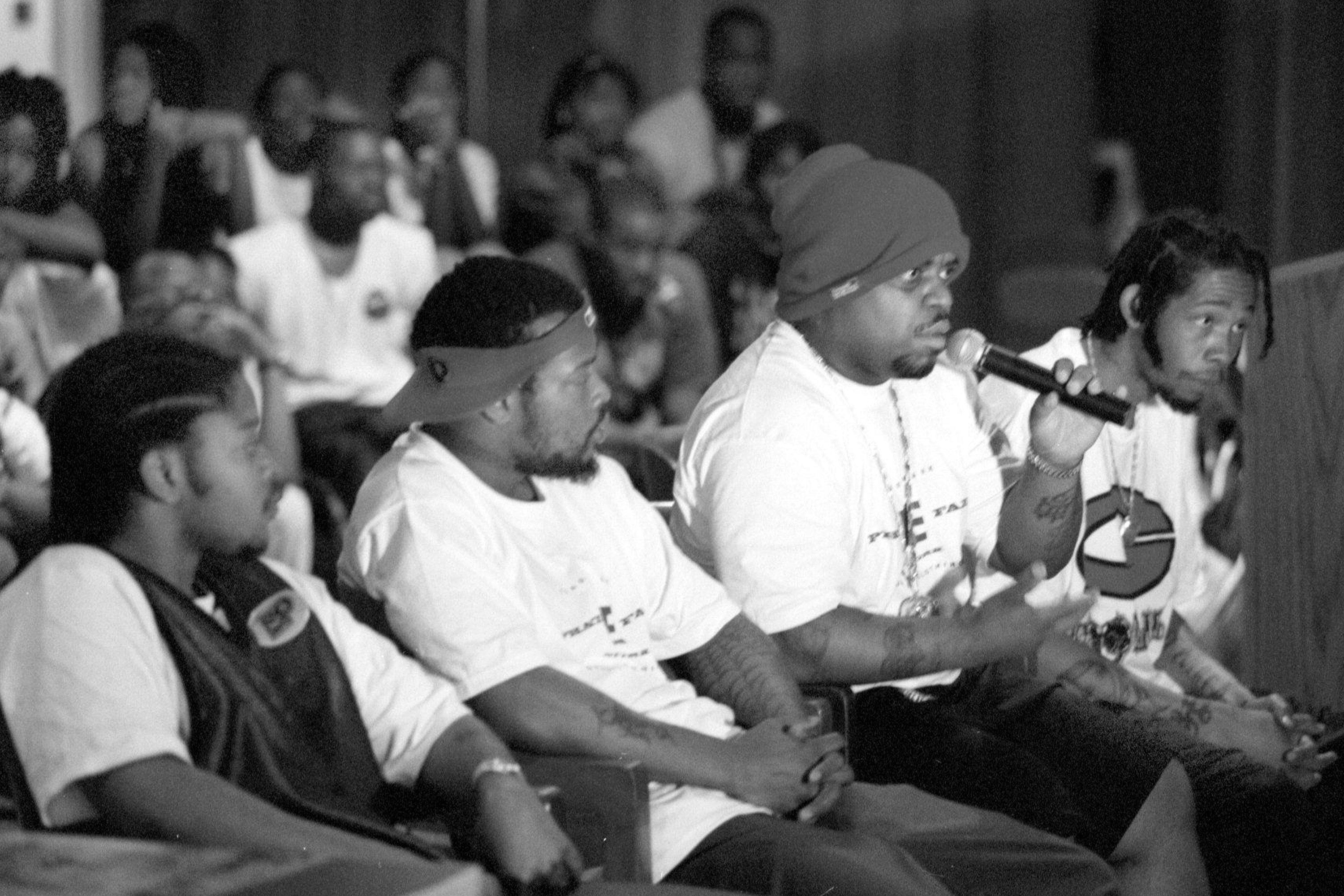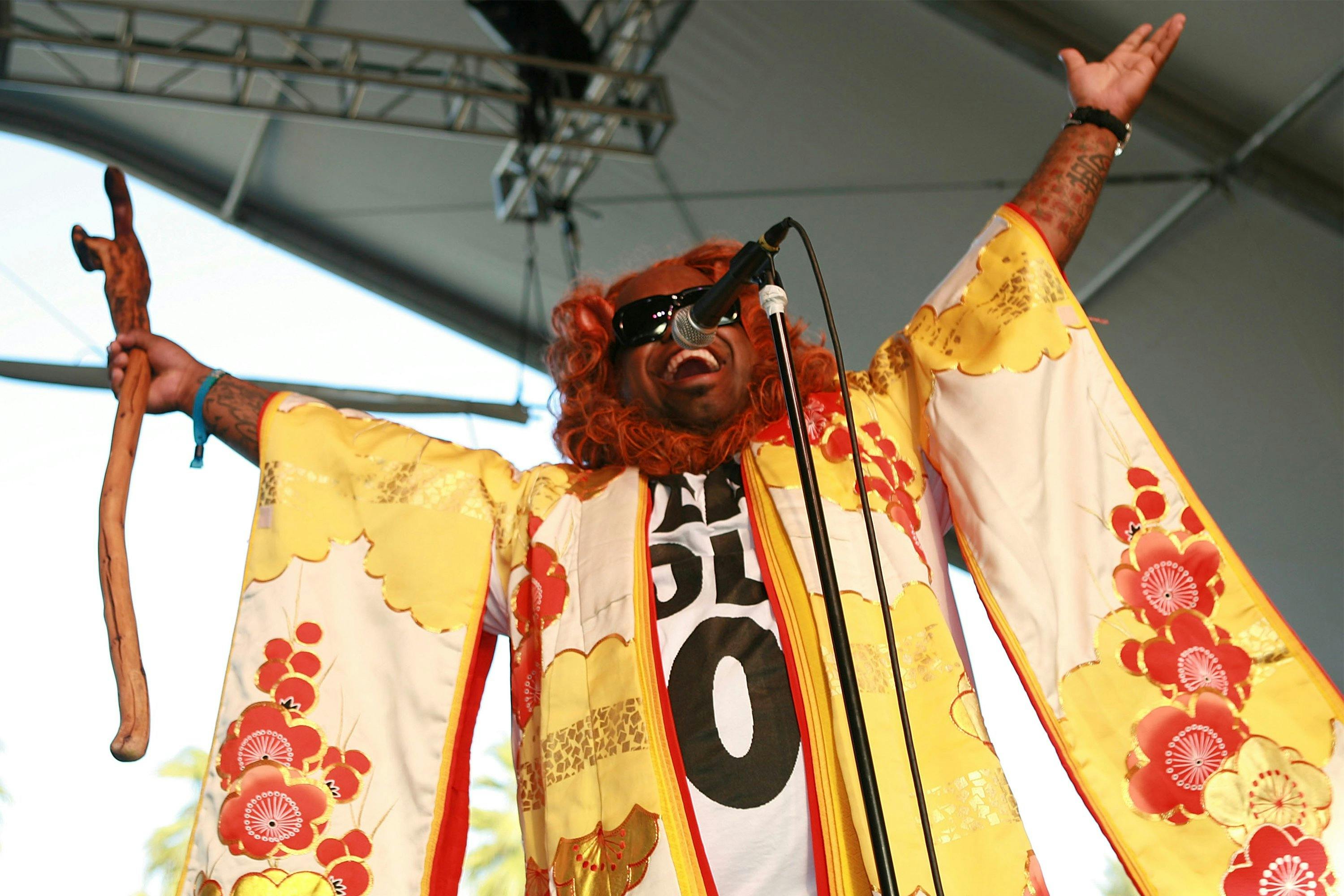 Photo by James M. Thresher/The The Washington Post via Getty Images/ Photo by Bob Berg/Getty Images
Rico Wade's vision may have initially been a quick reaction to the success of southernplayalisticadillacmuzik, but Cee-Lo's songcraft and lyricism was the perfect final ingredient for the stew that would become Goodie Mob. 
The four men shared a spirit that each seemed to bolster the whole in his own unique way. Goodie Mob's debut featured Cee-Lo prominently, and the album announced the group as a new kind socially-conscious Hip-Hop: deeply southern and informed by spirituality. They talked about the streets from a thoughtful place and Cee-Lo's distinct vocals connected the music to a rich legacy of soul, blues and gospel. 
"There was a high regard for accountability. It was very important that we represent the region respectfully," he says. "I felt like we were almost activists. We were fighting for southern Hip-Hop."
While the group was fighting for Atlanta, for Georgia, and for the South; Cee-Lo was also a student of East Coast Hip-Hop. Despite the regionalism of the times, he held Hip-Hop's heritage in the same high regard as the other genres that informed his art. But it became clear that Cee-Lo's musical interests stretched far and wide. Over the next 25 years, Thomas Callaway would dabble in Hip-Hop, soul, pop, funk and dance music, repeatedly deconstructing his persona and sound in ways that surprised fans and satisfied his endless musical curiosity. 
Goodie Mob's status as rap legends was cemented by the early 2000s, but Cee-Lo's eventual solo pursuits did leave the group's status uncertain for many years. His forays with Gnarls Barkley, and in numerous iterations as a solo artist, have given Cee-Lo one of popular music's most idiosyncratic and endlessly interesting catalogs. When Goodie Mob fully reunited as a foursome in 2013, Cee-Lo had seen chart-topping crossover success with hits like "Crazy" and "Fuck You." Navigating all of those disparate interests can be trying, but he's managed to make it work for him. And Goodie Mob's status is as strong as it's ever been. 
Because the foundation for it all is still The Dungeon. Cee-Lo brings it all back to the mothership. 
"That's the success of Gnarls Barkley. That's 'Fuck You.' That's [OutKast's] 'Hey Ya.' That's [TLC's] 'Waterfalls,'" Cee-Lo states, rattling off wins from the legendary collective. "All of these things outside of the genre of Hip-Hop, but extending from our core center of Hip-Hop. 
"I don't believe that there's a more critically or commercially successful large collective than the Dungeon Family."
 * HEADER CREDIT: Cee-Lo on 5/10/02 in Chicago, Il. (Photo by Paul Natkin/WireImage)