Spoilers ahead. 
We're still in Europe and Earn, Al, Darius, and Van are strolling the streets on the way to a party hosted by one of Earn's friends. When Al asks Earn whose party it is again, Earn explains that his friend Will knows him, and the guy hosting the party, Fernando, is a billionaire — his family "gave out the first loan."  It's not clear whether Earn means in life, or what, but either way Al is generally unimpressed. Earn says he doesn't have to do anything at the party, Fernando just wants to hang out and it'll be a good chance to soak up some game from a super rich billionaire. Earn nudges Darius to remember his brilliant weed subscription idea, and Darius lights up at the prompt. Earn explains Darius doesn't need Shark Tank any more, this Fernando guy has real money and could invest in his idea.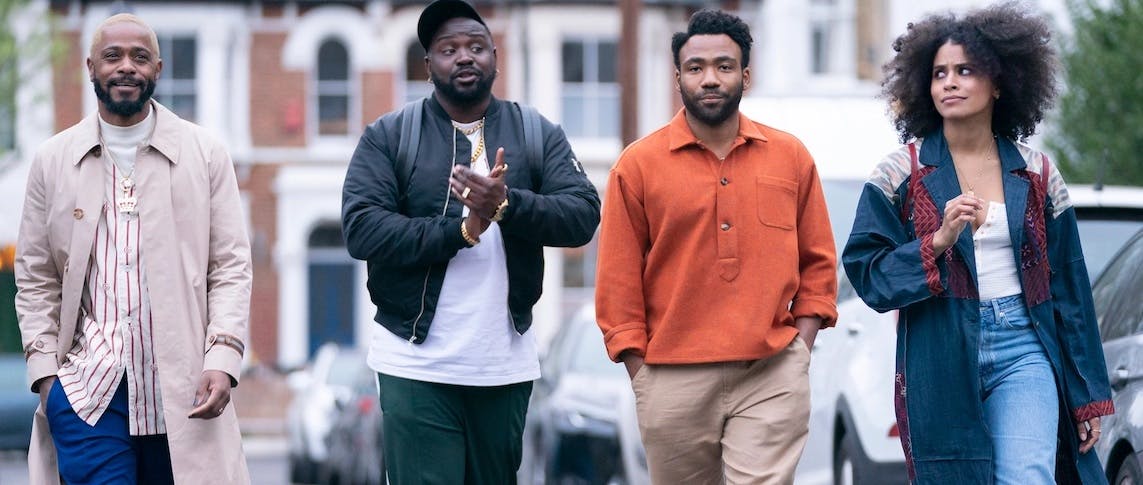 They get to the house, which looks like a shoddy storefront (Van says it's giving "Tales From the Hood vibes"). Everyone is skeptical when they're greeted by a bored British woman who no one can understand, until Earn's homie Will appears and gleefully ushers them through the filthy house.They talk about European Hip Hop as they climb the stairs, and Al explains they don't listen to a lot of it because they can't understand what anyone's saying, to which Will replies he's happy for mumble rap because it gave Euro artists a "leg up." Will starts listing European rappers he thinks are dope. Earn and Al are unimpressed until Will finally mentions 21 Savage (ha!). Finally, they get to a shabby door in the corner of the hallway, Will enters a code, and woah, they enter the real billionaire house, which is enormous, swanky, and even has its own Nando's. Turns out the shabby house was just a "decoy," which Darius points out. 
As Earn chats it up with Will, learning that his wife has recently divorced him, everyone spreads out – Darius and Al head to the indoor Nando's and Van sticks close by, sipping champagne and examining the small sculptures on display. Actually, she does more than that, she slides one into her pocket (she's still wearing the super cute coat she bought from her shopping journey with Darius last episode).