"This man was a thief and a pickpocket that turned into something," Speech says. "Why did he turn into something? Because of his spirituality. Because of his belief in something bigger."
X was released on November 18, 1992. Spike Lee's film would become one of the year's most acclaimed films, and Malcolm X's image and message would soon be more mainstream than ever. "X" baseball caps and jerseys became a fixture in pop culture, and Denzel Washington's performance was nominated for an Academy Award.
"I think now, over time, Malcolm has only gotten more endearing to the world. But at the time, he wasn't so endearing to the world; Dr. Martin Luther King, Jr. was much more endearing, especially to Black folks—even Black folks had issues with Malcolm X at the time. He was not endeared to all Black folks; a lot of Black folks thought he was a troublemaker startin' a riot, in a sense. So when you see that spiritual aspect of who he was, and that worldly aspect and how he saw the world--Malcolm X met with world leaders to strive for a pan-African approach and a worldwide approach to helping our problems at home. It was incredible. And that scope was desperately needed for the film."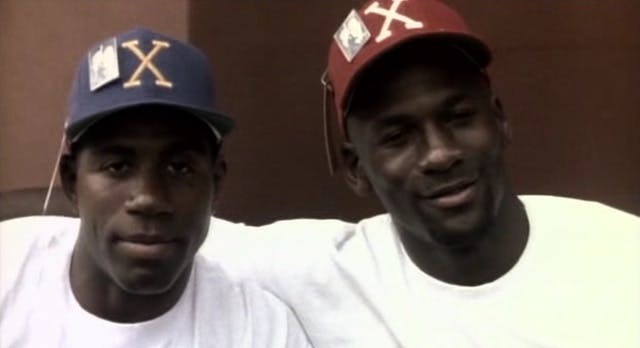 "To me, this movement has been moving on for quite a long time. I think one of the differences we have is a lot of the youth aren't reaching back to the ancestors and even to the older generations for a lot of their inspirations. Whereas we were; we were reaching back to The Last Poets, we were, by nature, sampling stuff from the South African apartheid movements that were [from] decades earlier. By nature of sampling we were constantly reaching back to the ancestral powers and bringing them forward with us, while we were doing our own thing at the same time. I think a lot of the generation is not doing that. That's what I think the difference is; and also, we were very much on a 'we can do it ourselves' and 'we need to do this ourselves' movement. And now, it feels like a little bit less of that, and more of 'we need the system to do XYZ for us.'"
"I'm really proud of the fact that I gave my energy and my time to something that my kids can look at and my family and friends can look at and say 'you were a part of building something, instead of destroying,'" says Ras. "Because you're either building or destroying, and I was a part of the building process. I can look now and say I didn't make any music that somebody lost their life to, know what I'm sayin.'"
For Speech, who has remained the frontman of Arrested Development for these 30 years, it's complicated watching themes he addressed decades ago still so pervasive in our culture.
"It's interesting. And it does frustrate me as a man that's 54 years old, I do look at how long this journey has been. It's frustrating to see how a record like 'Revolution' can still have so much relevance in 2022! When we were thinking about the 2000s in 1992, we were thinking about floating cars and spaceships! We're talking about the exact same issues—literally, you could pull it from headline to headline—and some of the exact same issues that were happening in the 60s and the 90s are still happening in the 2020s. It's the same. And that's frustrating as hell when you put your life and blood and tears into this. But I will say this: it's good that we're still fighting. Because it's worth the fight."